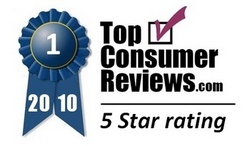 Legal Zoom is a nationally recognized leader in prenuptial agreements. They've helped over 1 million customers prepare an assortment of legal documents
Overland Park, KS (Vocus) July 27, 2010
TopConsumerReviews.com recently awarded their highest five-star rating to Legal Zoom, a company that guides the customer through the process of creating a Prenuptial Agreement.
Unfortunately, it's a fact - today over 50% of marriages end in divorce. For people that own their own business, have preexisting assets, a large income, or children from a prior marriage, it's vital to consider creating a prenuptial agreement.
Thankfully, getting a prenuptial agreement now is easier than ever. The days of hiring an expensive lawyer to create a prenuptial agreement is a thing of the past. Today you can create an effective and thorough prenuptial agreement from the convenience of your own home.
"Legal Zoom is a nationally recognized leader in prenuptial agreements. They've helped over 1 million customers prepare an assortment of legal documents," explained Brian Dolezal, of TopConsumerReviews.com. "If you and your partner intend to prepare a prenuptial agreement for your marriage, Legal Zoom's three step process is the most efficient and straightforward way to create the necessary documents. In the event that you have a question or need clarification, Legal Zoom provides excellent customer service to assist."
To find out more about Legal Zoom and other prenuptial agreement service providers, including reviews and comparison rankings, please visit the Prenuptial Agreements category of TopConsumerReviews.com at http://www.topconsumerreviews.com/prenuptial-agreements .
About Legal Zoom
LegalZoom.com is the nation's leading online legal document and filing service. Co–founded by attorney Robert Shapiro in 2001, LegalZoom.com offers a convenient and cost–effective way to take care of common legal needs. LegalZoom service offerings include: Wills, Living Wills, Incorporation, LLC Formation, Living Trusts, Powers of Attorney, Divorce, Small Claims, Trademarks, Patents, Copyrights and more. LegalZoom.com is not a law firm and does not provide legal advice or counsel.
About TopConsumerReviews.com
TopConsumerReviews.com is a leading provider of independent reviews and rankings of hundreds of consumer products and services. From contact lenses and credit repair, to internet filters and pet insurance, TopConsumerReviews.com delivers in-depth product evaluations in order to make your purchasing decision easier.
###