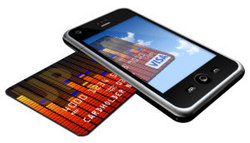 While the iPhone dominates mobile news, the quieter revolution is the rapid growth of prepaid phones, which you pay for as you go, without contracts. And now with Plastyc's airtime refill, adding prepaid cell phone minutes is easier than ever.
New York, NY (PRWEB) May 24, 2010
Customers no longer have to buy airtime refill packs and scratch cards at stores or sign up on sites that sell airtime. Instead, they can add minutes to their own phones or their family's and friend's phones in the U.S. or overseas right from within their prepaid card account. There are no fees or added costs compared to refill packs, scratch cards or online refills offered by carriers on their own sites.
No other prepaid card (or debit or credit card for that matter) offers a prepaid airtime refill service, and no mobile refill service comes close to Plastyc in demographic coverage.
Plastyc's airtime refill option works immediately with prepaid cell phones on AT&T, Verizon, T-Mobile and Boost Mobile networks.
In addition, UPside Visa and iBankUP customers can use their prepaid accounts to add minutes to family and friends' phones in 30 countries totally more than 4 Billion people, in particular Mexico, China, Philippines, India, Vietnam, Cuba, the Dominican Republic . Plastyc will be adding support for additional wireless providers this summer, both in the US and overseas. .The service is powered by TransferTo, an airtime transfer network connecting mobile operators worldwide.
Plastyc's marriage of prepaid phones and prepaid cards joins the two fastest growing segments in their respective industries. In the final quarter of 2009, new U.S. prepaid wireless customers outnumbered new contract customers for the first time ever — 65 percent of the 4.2 million new customers came from the prepaid market, according to research from the New Millennium Research Council (NMRC). Meanwhile, network-branded prepaid cards are the fastest growing card product, according to the Network Branded Prepaid Card Association.
"While the iPhone dominates mobile news, its high cost and binding contracts place it out of reach for most people," said Patrice Peyret, CEO of Plastyc. "The quieter revolution is the rapid growth of prepaid phones, including full featured 3G handsets with MP-3 music, camera, and full qwerty keyboard [like the Samsung Rant offered by Boost Mobile], which allow you to pay as you go and don't lock you in into contracts. And now with Plastyc's airtime refill, adding prepaid cell phone minutes is easier than ever."
Here's how the airtime refill option works. UPside Visa and iBankUP customers can:
1) Log into their online accounts and select the "refill a cell phone option"
2) Select the US carrier or the country outside the US and enter the phone number
3) Select the amount to refill, and, optionally enter a personal message if the refill is for a friend's or family's phone (the message is delivered by SMS)
4) Verify and submit.
The process completes in a few seconds and the resulting transaction appears in the statement as an airtime purchase.
In addition to providing customer convenience, Plastyc's new airtime refill service helps wireless providers sell more airtime while distributing fewer refill cards. It also helps providers sell airtime online without the fraud risk of sites that sell airtime using credit card transactions.
Until June 30, Plastyc is offering a 5% discount on airtime added to U.S. phones.
For more on the new UPside Visa and iBankUP prepaid cell phone refill options, visit http://www.plastyc.com/mobile-refills.htm.
About Plastyc, Inc.
Plastyc's iBankUP online banking service and UPside Visa prepaid card services are the new game in town for people who love innovation and hate wasting money on checking account, credit card and check cashing fees. Thousands of new customers each week save millions of dollars in fees by using Plastyc's FDIC-backed banking services. Plastyc's principals are veterans of the consumer and payment industries, with decades of experience at companies such as GemAlto, Oberthur, Unilever, Thomson/RCA, Sun Microsystems and Mobile365. Plastyc Inc. privately held with headquarters in New York City.
About TransferTo™
TransferTo™ operates a global mobile airtime network enabling small-value transfers from mobile phones, open loop prepaid cards, POS, and ATMs. With this network, consumers with family overseas can recharge the mobile of their friends and relatives back home. It is a fast, reliable, and convenient solution for international mobile top-up.
# # #