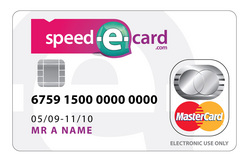 London, UK (PRWEB) January 22, 2010
A new UK-based service launches today giving cash-conscious consumers greater control over their finances as well bypassing the banks with their often hefty overdraft charges and fees. The Speed-e-card (a prepaid MasterCard) and e-bank account gives the consumer many of the benefits of a traditional bank account and debit card - but with no interest charges or late fees - and no credit checks.
The card can be used online or in shops, just as a normal credit or debit card would be used, as well as abroad, meaning no worries about having to change up Travellers Cheques.
The prepaid card can also be used to make payments online via the free e-bank account and even set up standing orders from it, making it a viable alternative to running a traditional bank account.
And because consumers can only spend what they actually have on their card, they should never go overdrawn, meaning greater control over their money and no nasty overdraft fees!
There is even the option to receive an SMS every time the prepaid card is used, so card holders will know straight away if it is being used fraudulently.
Gary Miller-Cheevers from the site says: "The Speed-e-card with its free e-bank account gives consumers greater control over their money and the re-assurance that they will never pay charges and fees due to being overdrawn. We believe that in these credit-crunching times and with lots of media coverage over unfair bank charges and hidden costs, this service provides a transparent and ethical way to manage your finances. Why give the money to the banks when you can spend it yourself!"
The Speed-e-card is also unique in that once it is activated, it can be loaded with a Speed-e-loans payday loan - a form of cash advance which is repaid on your next payday.
For more information, please visit: Speed-e-Card.
###