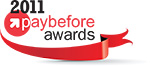 We're very pleased to have the industry experts at Paybefore call us out as a winner in the category addressing teen prepaid cards
New York, NY (Vocus/PRWEB) March 17, 2011
Plastyc's UPside prepaid account won top honors as the best consumer-funded prepaid program at the 5th Annual Paybefore Awards, presented at the Prepaid Expo in Orlando last week.
Now in their fifth year, the awards are a prestigious recognition of excellence in the worldwide prepaid and stored value card industry.
Plastyc's UPSide account won recognition for its work in redefining banking and financial literacy for the youth market. UPside offers a choice of parent-funded and controlled cards at different price points. Unlike ordinary checking accounts, parents and teenagers each have separate access to the card accounts and are guaranteed to never incur overdrafts. Teens frequently access accounts from their cell phones or laptops, while parents log in occasionally from a computer to supervise spending and program allowances.
"Visa-backed programs such as the UPside card are quickly evolving as a superior alternative to traditional accounts for a growing number Americans. Of course we're very pleased to have the industry experts at Paybefore call us out as a winner in the category addressing teen prepaid cards," said Patrice Peyret, CEO of Plastyc.
According to Visa, prepaid has been its fastest-growing consumer product category for more than six years. Visa estimates the overall industry prepaid opportunity to be as much as $1 trillion in the U.S. and $3 trillion globally.
About Plastyc, Inc.
Plastyc delivers good banking to all by providing 24x7 access to FDIC-insured accounts through any Internet–connected computer or cell phone. Unlike traditional checking accounts, Plastyc's iBankUP portal and UPside cards never incur overdrafts, and they offer better services at lower prices, with more ways to receive money and no risk of over-spending it. Plastyc's principals and directors have a track-record as financial services innovators at companies including Gemalto, Oberthur, Signio (now part of PayPal, an eBay company), ClairMail, Lending Club, and Genetic Finance. Plastyc is privately held with headquarters in New York City.
About Paybefore
Paybefore is the leading information provider to prepaid and stored value industry professionals, offering the latest news, commentary and analysis. Paybefore's family of industry publications include: Paybefore.com™, a searchable online news and information portal; Paybefore News™, daily news briefs delivered electronically; Paybefore News International™, a weekly compilation of prepaid news and events from outside the United States; Paybefore Update™, a downloadable e-newsletter delivered 20 times a year; Paybefore Legal™, a downloadable e-newsletter covering the legislative, regulatory and judicial developments in prepaid, as well as feature articles by leading attorneys in the field; Paybefore Magazine™, a biannual print publication featuring in-depth articles on the opportunities, challenges and trends in the global prepaid and stored value industry; and the only industry directory, Paybefore Buyer's Guide™, available online and in print.
###