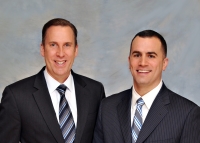 Waltham, MA (PRWEB) November 26, 2012
McGeough Lamacchia Realty, a full service real estate agency serving Massachusetts and New Hampshire, has put together 5 important tips on how to prepare a home for winter.
John McGeough and Anthony Lamacchia, co-brokers and owners of McGeough Lamacchia Realty, estimate homes can lose up to 50 percent of their market value from damage caused by pipes that freeze and burst during colder months. Proper home maintenance done before winter can save energy costs and address problems before they occur.
1. Shut Off Outdoor Faucets
Prevent water damage to the home by draining the outdoor faucets. Water trapped inside the pipes can freeze and the pipes can burst. Avoid expensive repair bills caused by pipes bursting by simply shutting off the outdoor faucets from inside.
2. Clean Gutters and Downspouts
Cleaning gutters is an important tip for winterizing a home. Get rid of leaves and twigs in your gutter that can prevent proper drainage of water and can increase the risk of ice dams. When snow melts, the runoff goes into gutters and re-freezes, which can create an ice dam. If the gutters are clogged and water has nowhere to go, it could back up under roof shingles and eaves. Cleaning the gutters now will allow water to be diverted away from the home.
3. Remove Branches Hanging Over House
Snow and ice can accumulate on branches and weigh them down, which can cause serious damage if they fall on the home or on wires connected to the home. Have them pruned back or removed. If the branches are touching utility lines, contact the utility company to have them removed by one of their professionals. Removing branches near the home is an important tip for selling a home during the winter as well.
4. Cover Air Conditioner Condensers
Covering the air conditioner condenser will help prevent dirt, leaves, and other debris from getting in the condenser fan and the coils. Build-up of debris in and around the air conditioner unit decreases efficiency, causes damage, and can lead to corrosion. Covering the air conditioner unit during the winter will allow it to work at optimal efficiency during the warm months and will decrease maintenance costs.
5. Cover Outdoor Furniture and Disconnect Gas Grills
Store outdoor furniture indoors or use covers specifically made for outdoor furniture. Fabric covered cushions should be stored indoors. Natural materials such as wicker should also be kept indoors during the winter. Disconnect the propane tank on the gas grill and cover it to prevent rust.
McGeough Lamacchia Realty says homeowners can protect their homes and reduce repair costs by following these tips.
For more tips, go to the New England Real Estate Blog
About McGeough Lamacchia
McGeough Lamacchia Realty is the number one Real Estate Agency in Massachusetts and named one of the fastest growing Real Estate Companies in the U.S in 2012 by Inc. Magazine. They are a full service real estate agency serving home buyers and sellers Massachusetts and New Hampshire.