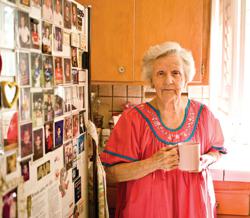 Many family caregivers don't know all they need to know about their loved ones' medications and doctors.
Omaha, NE (PRWEB) May 26, 2011
Seniors who are on multiple prescriptions can easily encounter problems if they are not taking medicine correctly or if changes in their medical condition require a different dosage or medicine. "One thing to look for is a sudden change in condition," said Thomas Clark, RPh, MHS, CGP, director of clinical affairs for the American Society of Consultant Pharmacists and the ASCP Foundation. "That can indicate an older adult is not getting the proper dose of a medication. Many symptoms may be considered drug side effects unless proven otherwise," he noted.
Many family caregivers don't know all they need to know about their loved ones' medications and doctors. That's what the Home Instead Senior Care® network found when the organization surveyed future family caregivers about their knowledge and awareness of their parents' important information.
Less than half (47 percent) say they are knowledgeable about their parents' medical histories in case of an emergency. And, approximately half (49 percent) are unable to name any of the medications taken by their parents each day. Furthermore, 36 percent of those future caregivers don't know where their seniors' financial information is located.
"This survey was no surprise to us, since we often are called to assist when families are in crisis," said Jeff Huber, president and Chief Operating Officer (COO) of the Home Instead Senior Care network. "We've seen the turmoil that such a situation creates and we've also witnessed how much smoother it can go when families are prepared."
That's why the Home Instead Senior Care network has worked with Humana Points of Caregiving® to develop an information management tool that is described in more detail on the Senior Emergency Kit(SM) website. Part of the Answering the Call(SM) program, the toolkit is designed to help family caregivers keep important information at their fingertips and know who to call in the event of a medical emergency. The program and website include additional resources and links to help family caregivers learn more about how to manage their senior's medical and financial information.
Medication-related problems can cause, aggravate or contribute to common and costly geriatric problems including: confusion, delirium/hallucinations, depression, dizziness, falls, incontinence, insomnia, loss of coordination, malnutrition/dehydration, memory loss and psychiatric problems. They also can send seniors to the hospital. Adverse drug reactions (ADRs) or noncompliance are responsible for 28 percent of hospitalizations of the elderly, the ASCP reports.
In the lives of seniors, these issues also can then lead to decreased quality of life, hip fractures, loss of independence and even death. The issues reinforce the need for seniors and family caregivers to be educated about the safe use of prescription and over-the-counter medications.
A root of the problem with seniors and their medications is the sheer volume of prescription drugs that most older adults are taking. "Medication issues are big topics for seniors," said Clark of the ASCP, who served as an expert source for the Answering the Call program. "According to a recent report from the Centers for Disease Control, nearly 80 percent of Americans over the age of 60 use two or more prescription drugs, while 37 percent take five or more," he explained.
"It's so important that seniors are monitored and their medications regularly reviewed," Clark said. "One of our ASCP members analyzed the drug regimen of a man who had been diagnosed with Alzheimer's disease and recommended changes to his medication schedule. As a result, his Alzheimer's symptoms went away, he's driving again and he's started dating. These issues can be very serious."
About Home Instead Senior Care
Founded in 1994 in Omaha by Lori and Paul Hogan, the Home Instead Senior Care® network is the world's largest provider of non-medical in-home care services for seniors, with more than 900 independently owned and operated franchises providing in excess of 45 million hours of care throughout the United States, Canada, Japan, Portugal, Australia, New Zealand, Ireland, the United Kingdom, Taiwan, Switzerland, Germany, South Korea, Finland, Austria, Italy and Puerto Rico. The Home Instead Senior Care network employs more than 65,000 CAREGiversSM worldwide who provide basic support services – activities of daily living (ADLs), personal care, medication reminders, meal preparation, light housekeeping, errands, incidental transportation and shopping – which enable seniors to live safely and comfortably in their own homes for as long as possible. At Home Instead Senior Care, it's relationship before task, while continuing to provide superior quality service that enhances the lives of seniors everywhere.
For more information about Home Instead Senior Care, contact Erin Albers, marketing and public relations manager, at the address provided in the Contact section of this release. To learn more information about Humana Points of Caregiving, please visit the Points of Caregiving website or call 1-877-260-7277 (TTY: 711) Monday through Friday, 8 a.m. to 8 p.m. Eastern time.
# # #