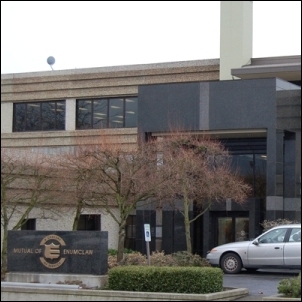 Companies everywhere are at risk of business disruption during severe storms, power outages, fires, floods, and other emergencies, and Enumclaw Insurance Group plays a key role in helping these businesses get back on their feet
Seattle, WA (Vocus) January 30, 2007
Prepared Response, Inc. , a leading developer of crisis management planning and response systems, today announced that Enumclaw Insurance Group has installed the Rapid Responder® crisis management system (CMS) to protect its main office and warehouse in Enumclaw, WA. Rapid Responder gives facility managers and security teams instant access to more than 300 facility data points, including floor plans, satellite and geospatial (GIS) information, interior and exterior photos, emergency plans, hazardous materials locations, utility shut-offs, and evacuation routes to ensure a fast and effective response during emergencies. Enumclaw Insurance Group is the first insurance company nationwide to protect its headquarters with the Rapid Responder system.
"Enumclaw Insurance Group has very robust security measures in place to protect our client's and broker's important policy information and the staff at our facilities," said Rich Hundven, vice president, security at Enumclaw Insurance Group. "The Rapid Responder system will add an extra measure of safety and security in the event of an incident at our facilities."
"Companies everywhere are at risk of business disruption during severe storms, power outages, fires, floods, and other emergencies, and Enumclaw Insurance Group plays a key role in helping these businesses get back on their feet," said Jim Finnell, president and CEO of Prepared Response. "Now Enumclaw Insurance Group has set an example for all companies in the value of preplanning for emergencies by implementing a crisis management system that can help speed emergency response and mitigation following a catastrophic event."
Rapid Responder is the only crisis management system to have been "Certified" as a "Qualified Anti-Terrorism Technology" through the U.S. Department of Homeland Security's SAFETY Act. In addition, Prepared Response was recently honored with the 2006 Focus on Innovations award by the National Homeland Defense Foundation in Colorado Springs.
About Enumclaw Insurance Group
Founded in 1898 as Farmers' Mutual Insurance Company and providing fire insurance to its members, Enumclaw Insurance Group (Mutual of Enumclaw Insurance Company and Enumclaw Property and Casualty Insurance Company) has grown into a major carrier in Washington, Oregon, Idaho and Utah with more than 450 agency locations and 17 claim offices. Enumclaw Insurance Group specializes in property and casualty insurance and has more than $295 million in written premiums. Personal lines products include auto, homeowner, dwelling fire, watercraft, excess liability and inland marine. Commercial lines products include auto, fire, general liability, business owners, farm, church, umbrella and inland marine.
About Prepared Response, Inc.
Prepared Response Inc. develops crisis management planning and response systems that enable police, fire, and other emergency responders to save lives and mitigate property damage. The Rapid Responder system protects more than 8,000 facilities and is currently deployed in educational facilities, public buildings, critical infrastructure, and private facilities across the U.S.
The privately held company, headquartered in Seattle, Washington, was formed in September 2000. Additional information can be found at http://www.preparedresponse.com or by calling 1-800-705-1856.
Contact:
Prepared Response, Inc.
Gary Sabol
Public Relations Manager
(206) 223-5544
Enumclaw Insurance Group
Bob Horn
Vice President, Marketing
(800) 366-5551 ext 3190
# # #