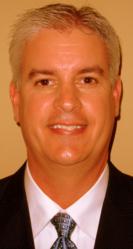 On behalf of the Board of Directors, we warmly welcome Eric L. Gobble into his expanded role and have never been more excited or optimistic about Prepared's future." - Schaffel
Tampa, FL (PRWEB) April 19, 2011
Mr. Marty Schaffel, Chairman of the Board for Prepared Insurance Company, announces the resignation of President and Chief Executive Officer, Mr. Douglas Raucy as of April 12, 2011 and appointment of Mr. Eric L. Gobble as the new President and Chief Executive Officer of Prepared Insurance Company.
In his announcement Mr. Schaffel said, "Mr. Raucy has served diligently in our organization since 2009. We thank him for his valuable contributions which led to the successful launch of Prepared Insurance Company. On behalf of the Board of Directors, we warmly welcome Eric L. Gobble into his expanded role and have never been more excited or optimistic about Prepared's future."
Eric L. Gobble has been serving as COO and Chief Risk Officer at Prepared Insurance Company since its inception in 2009. Prior to Prepared, he served as a Senior Director at Risk Management Solutions, Inc. (RMS) in their Peoria, IL office. During his 11 years at RMS, Eric focused on client development, which included advancing the use of catastrophe risk management tools and initiatives across a broad range of insurance/reinsurance and brokerages within multiple industry-leading organizations. Prior to RMS, he held senior roles in both reinsurance and accounting for two insurance companies in Illinois, John Deere Insurance and RLI. His experience in reinsurance, catastrophe management, financial oversight and relationship management has been invaluable to the success of Prepared Insurance Company. "I am looking forward to serving Prepared in a new and broader capacity. The synergy among our Management Team is at its finest. We will continue on our path of healthy growth, while providing a financially stable and customer service oriented market for Florida homeowners with the support of our exclusive agency partners," said Gobble. Eric Gobble will continue to serve as Chief Risk Officer for Prepared Insurance Company in his new role.
Mr. Gobble is a graduate of St. Ambrose University in Davenport, Iowa with a B.A. in Accounting and Finance. He is a Certified Public Accountant, Chartered Property Casualty Underwriter (CPCU), and Certified Catastrophe Risk Analyst (CCRA). Prepared Insurance Company is headquartered in Tampa, FL. To learn more about Prepared, visit http://www.preparedins.com or contact Stephanie Siewert, Vice President of Sales & Marketing at ssiewert(at)preparedins(dot)com
###