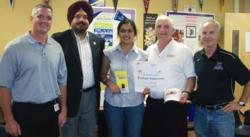 Preparing the next generation of energy professionals requires access to state-of-the-art training delivery… Tomorrow's system reliability depends on effective PReParation and training of the next generation of professionals.
Charlotte, NC (PRWEB) July 08, 2011
Over 140 High School students in the Ardrey Kell Science and Technology program heard Mr. Sadinsky's presentation on the ET Revolution in late 2010. He challenged all students to create a video. Ms. Sangha took up the challenge and developed a rich overview of the breadth and depth of Careers in Energy Technology (ET). This video has been placed on the http://www.prepintl.com site. With so many new technologies coming into the industry from Electric Vehicles to Smart Grid technologies to new means of managing renewable energy sources, careers in energy are changing dramatically.
PReP Intl CEO, Matt Sadinsky praised Gurnoor, "For a young mind to show this level of understanding of some of the roles of the heavily regulated Energy Industry, across its sectors: Fuels> Generation> Transmission> Distribution> Markets is something to be applauded, recognized and rewarded. With an entire generation of experienced power professionals poised to retire in the next 3-5 years, it is critical that schools, associations and energy organizations redouble efforts to get the attention of students and veterans to prepare themselves.
"Some scholars predict that Energy Technology (ET) will be our next industrial revolution — changing the world more than Information Technology (IT) did. If they are even only half right, it is more critical than ever that today's students and teachers in all grades to begin using and improving existing curriculum in math and science to prepare."
As part of PReP Intl's assistance to continue improving Gurnoor's knowledge of the energy industry, she also received access to the SOS Intl curriculum bundle, "PowerStarters". The summer challenge for this award-winning student is to focus on completing PowerStarters Online coursework for a leg-up on further exploration of Energy Technology in her future studies.
Components of PowerStarters:

3 courses introducing principles in the operations of power plants, transmission and electric power systems;
2 courses on the fundamentals of system protection and voltage control; and
1 course on math necessary for routine calculations
Benefits of PowerStarters:

Specifically designed for those with little prior experience in the electric utility industry
Efficient in refreshing individuals who are still new to power system operations
Foundational for more in depth programs in industry equipment and systems
Teaches the principles of the power grid, its components and operations
Effective at teaching the terminology and concepts of the power industry
Consistent with the NERC PER-002 requirement for initial operator training
"Preparing the next generation of energy professionals requires access to state-of-the-art training delivery," observes CEO Sadinsky. "This next generation of energy professionals will be more computer savvy than ever before and they learn better using a combination of training modalities. These students and veterans today learn differently than our mother's and father's generation did. As the industry crosses this generation divide, it will take more engaging online, more video, more exercises and simulations in addition to reading procedures and traditional classroom and on-the-job training to close the gap of knowledge and experience that could be lost. Tomorrow's system reliability depends on effective preparation and training of the next generation of professionals."
PReP Intl: provides Prequalified Ready Employees for Power by assuring the proper background, certification, training and credentials and specializes in interim, temporary-to-regular placement for critical roles. Since 2009, PReP Intl has helped energy companies meet immediate, short term and critical talent management needs. PReP Intl screens, prepares and represents recent college grads, engineers, retirees; the un- and under-employed explore careers and career extension in energy. PReP Intl works exclusively in the energy industry with HR teams, Operations and procurement organizations to assure a funnel of ready talent and effective workforce planning to shelter the risks and costs of vacancies and expensive hiring errors.
SOS Intl: is recognized by the North American Electric Reliability Corporation as a continuing education provider who adheres to NERC Continuing Education Program Criteria. SOS Intl has trained over 10,000 system operators, engineers and power marketers in the energy industry in over 1000 energy organizations since 2002 applying state of the art adult learning theory and multi-modal training delivery. SOS Intl is the leading provider of compliance consulting, training development and delivery with focus on system reliability within the bulk electric system throughout North America.
Contacts:
Adam Slater
PReP Intl
704.752.6414
10715 Sikes Place - Suite 114
Charlotte, NC 28277
Amy Norton
SOS Intl
877.SOS.INTL
10715 Sikes Place - Suite 114
Charlotte, NC 28277
###