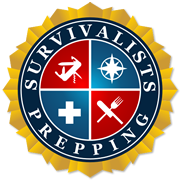 We want to ensure that all Americans are prepared for impending events that will send every household in this country into a state of upheaval.
Wilmington, DE (PRWEB) February 20, 2013
Recent close encounters with meteors, asteroids and economic collapse have served one useful purpose; they have raised the awareness of millions of Americans to the fact that they are not prepared for either a world-wide catastrophe or even a localized, community-based disaster that wreaks havoc on infrastructure and the mainstream consumer supply chain. With the goal of helping all Americans prepare for - and survive - any type of crisis, SurvivalistsPreppers.com launched December 21, 2012 as the nation's premier resource for survivalists and preppers.
The site quickly gained the attention of government agencies and was even subjected to extraordinary scrutiny on social media platforms. "Our online community simply gives novice survivalists and those with years of experience a place to share resources, ideas and thoughts about the best ways to prepare for impending crises," said Ginger Glavis, the site's spokesperson. "We welcome any and all who want to become better equipped to deal with natural disasters, terrorist attacks, social collapse or even the loss of a household income," Glavis said, "It's a one-stop resource for the survivalist and prepping community - for individuals of all levels of expertise."
Backed by businessmen and a multi-million dollar organization, SurvivalistPreppers.com intends to provide Americans with the resources they need to transition from dependent, consumer-based households into better informed, self-sufficient and secure communities. In an effort to raise awareness, Survivalists Prepping is awarding prizes worth thousands of dollars to active participants including a new iPad, iPod, Apple TV and $300.00 Visa Gift Card.
The site offers a wide range of resources for survivalists and those who are interested in emergency preparedness for a possible breakdown of order in the future. For example, the site includes detailed information on how to pack a "bug-out bag" with a three-day supply of food and water. It also provides guidance on alternative power sources in the event of a prolonged power outage in addition to "How-to's" on budgeting, bartering and couponing as a way to build an affordable and sustainable stockpile of food.
Links to up-to-the-minute news stories about survivalist's efforts around the world can be found at SurvivalistsPreppers.com as well as a blog and forum that allow community members to easily access information and interact with others. There is even an online store where shoppers can purchase anything from crank radios to food dehydrators to dog survival kits at prices which are substantially discounted below suggested retail - and shipping is free.
To generate interest and raise awareness of the community, SurvivalistsPreppers.com is hosting a contest that will award thousands of dollars in prizes to those who share their thoughts and expertise on the site's blog and forum. Community members who participate in forums and blog dialogue – as well as refer friends via social media outlets – stand an even better chance of winning prizes.
"We want to ensure that all Americans are prepared for impending events that will send every household in this country into a state of upheaval. People need to become better educated on steps they can take to assure their family's safety, security and comfort when society as we know it is no more," said Glavis. "The fact is, disasters are coming our way – there's no way around it. The prepared stand a much better chance of surviving than those caught flat-footed."
Visit the site today and find out what all of the buzz is about. Contest winners will be announced on May 31, 2013. To learn more about the contest and how you can win a new iPad, iPod, Apple TV or $300.00 Visa gift card, visit http://www.survivalistspreppers.com/contest.