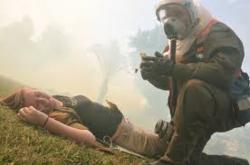 The odds of survival go way up when you have a plan if a disaster happens
Los Angeles, CA (PRWEB) April 02, 2013
Just launched is a brand new website called SurvivalStrategies.net on March 15, 2013. This site provides weekly articles from staff writers about everything to know on surviving a natural or man-made disaster. Consisting of Chris Mandia, Sage Shannon, Roy Bodner, and Fallout Girl, the writers are all from the Los Angeles area and have a passion for writing and preparing for disasters.
Geared toward the prepper movement that is currently gaining momentum, the goal is to teach how to prepare for the worst case situations by reviewing survival gear, current threats, why and how to get a plan in place now, and home self defense.
Already added to the site are many articles covering these topics. According to Doc Bettger, the site owner, much more will be added shortly including a forum, survivalist news from around the web, and a customer reviews section so that visitors can post their own reviews of places, gear, and strategies for survival.
Mr. Bettger, or "Doc" as he wants to be called, says that adding reviews on various survival gear is next up for the site, and that real reviews from real preppers is always best. Therefore important gear such as tents, bug out bags, home self defense weapons and strategies, food storage, survival kits, and the like, will be supported and asked for.
Doc also claims that there are many other websites providing quality information on preparing for a disaster currently on the web, and that pulling in and promoting this information is of value to the visitors so including this as a secondary function of the site is important.
However, Doc was adamant that Survivalstrategies.net does not focus on any religious, political, or racial views. Only great information on how to survive short and long term when a disruption of water, food, and security of law happens will be found there.
It makes a lot of sense that having a plan in place when disaster strikes will better the chances of survival and comfort during extended periods of turmoil and chaos. Getting this in place now, or at least started, seems very smart indeed - thanks Doc!