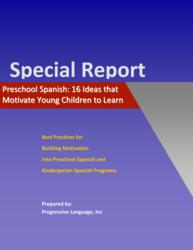 "Motivational elements must be built into preschool Spanish programs to keep children's attention and give them the desire to learn."
Albuquerque, New Mexico (PRWEB) May 31, 2012
Progressive Language, Inc, the creators of the Spanish Champs Preschool Spanish program, released a special report targeted at teachers and parents titled "Preschool Spanish: 16 Ideas that Motivate Young Children to Learn". The report is available for download on the Spanish Champs website.
Teachers and families often don't put much thought into what motivation a child has to learn a new language; because of this, they overlook key elements in having a successful language program. "If children aren't motivated to learn, they won't" said Tim Keller, President of Progressive Language. Unlike adults who have many motivations for learning such as class credit, preparing for a trip, or enjoyment of learning a language, children really don't have a need to learn Spanish. "Motivational elements must be built into preschool Spanish programs to keep children's attention and give them the desire to learn."
Progressive Language has compiled 16 motivational best practices into the white paper that will greatly enhance any preschool or kindergarten Spanish program.
Four of the 16 motivations tips are provided below:
Tip #1. Pride and a Sense of Accomplishment. Set small goals of learning several songs or completing several lessons. Celebrate when you achieve them. Tell the children often how great it is that they are learning Spanish and praise them when they use it, especially if it is outside normal "Spanish" time. Have some simple rewards available for when they do.
Tip #4. Demonstrator: When a child gets good at a song let them be a demonstrator for that song. If you have a school with 5 and 6 year old children, they can help demonstrate for the 3 and 4 year old children. The sooner you can put children in the role of "demonstrator" or "teacher" the better; this will be a big motivational factor for some children.
Tip #7. My Family is Learning: Integrate the family into the learning process. Make sure to send home the 16 "Take Home Activities" found in the Spanish Champs Coloring and Activity Book. Seeing mom, dad and siblings learn will be very motivational and help them start to identify with speaking Spanish. Parents can purchase a Spanish Champs Starter Kit (song CD, Video DVD and Song Book) and have their preschooler "teach" the family the motions to the songs.
Tip #14. Integrate Spanish into the Classroom: The more Spanish becomes a part of the classroom the better. If Spanish is totally segregated, it will be harder for children to start to identify with the language. It is OK to have "Spanish time" that is dedicated to Spanish, but also try to include words, phrases, counting, commands, songs and stories into the normal classroom activities.
For more on these and 12 other ideas on how to motivate young children, please download the white paper from the Spanish Champs website.
http://www.spanishchamps.com/preschool-spanish-motivational-tips/