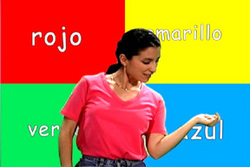 This is exciting for us
Albuquerque, NM (PRWEB) March 2, 2009
Shining Star preschool received a grant from the Rio Rancho Education Foundation to offer the Spanish Champs family Spanish program. The grant allows families to participate in classes and provides them with Spanish Champs CDs, DVD, story books, illustrated song sheets and coloring activities. Each family receives a Spanish Champs Music CD and DVD that they use at home to reinforce what is taught during the month-long program. The class teaches parents how to work with their kids at home so that even after the class is finished, they will continue learning Spanish.
Sarah Farrell, bilingual teacher at Shining Stars preschool wrote the grant. Ms. Farrell said, "More than 35 families sent in registrations, but we could only take the first 20. We have 63 participants in all - it's a big class. This shows that there is a big demand for preschool Spanish for families. Parents know that preschool is the ideal age to begin learning a second language, yet they often have difficulty finding materials that are age appropriate. This grant allows parents to receive materials and begin their own family learning at home." Families are making measurable progress according to Ms. Farrell "After just two classes, it is really amazing how well the kids and parents know the songs".
"This is exciting for us," said Tim Keller, president of Progressive Language, the creator of the Spanish Champs program, "it is another endorsement for our program that continues to grow across the US. Spanish Champs has a big emphasis on learning through singing Spanish songs and stories. Since preschool kids love both, it really facilitates their learning. Kids learn to distinguish words and build their pronunciation by singing, and then build their comprehension through stories, activities, and video reinforcement. Each song contains essential Spanish so families not only have fun, but are building a foundation that will last a lifetime."
Schools or parents interested in family or preschool Spanish can learn more by visiting Progressive Language, or call Tim Keller at 505-235-0882.
About Progressive Language, Inc.
Founded in 2000, Progressive Language develops multimedia learning resources and curricula for teaching children, including the Blue Wolf & Friends ESL program, and the Spanish Champs bilingual Spanish program. Progressive Language's multimedia resources are used at home, in preschools and grade schools throughout the world.
###