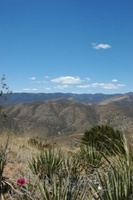 PRESCOTT, Ariz. (PRWEB) July 24, 2007
Surrounded by undeveloped state, Bureau of Land Management and privately held land, Bell Ranch is truly a diamond in the rough. The tree-lined Agua Fria River, home to the ancient pueblo communities that once dotted its banks, meanders through the property. Towering more than 800 feet above the river is a tapestry of rolling hills, rock outcroppings and sweeping mountain vistas below a wide-open blue sky. The property offers the potential for a variety of stunning home sites in a mild, four-season climate at a comfortable 4,000-foot elevation.
Bell Ranch features a first-rate infrastructure already in place:
-- private entrance road connects to other rock/gravel roads within the acreage
-- two bridges spanning the Agua Fria River
-- seven drilled wells plus river water rights to two million gallons annually
-- 30,000-gallon non-potable water storage
-- hundreds of acres of adjacent state grazing land under lease
The nearby town of Prescott, founded in 1863, is an eclectic mixture of Old West flair and modern amenities, boasting a high quality of life that suits every need. The town is best known for its lovingly restored Victorian-style homes, brick architecture and shady, tree-filled Courthouse Plaza - a charming display not found elsewhere in Arizona. In fact, hundreds of the town's homes and buildings are listed on the National Register of Historic Places, including the 100-year-old opera house.
For more information on the Bell Ranch property, please go to http://www.bellrancharizona.com.