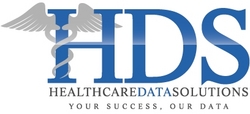 Our clients are always looking for better ways to target their messaging to active prescribers
Foothill Ranch, CA (Vocus) June 17, 2010
Healthcare Data Solutions (HDS) has released its new PrescriberPRO Rx solution which allows clients to target prescribers by drug utilization in addition to specialty, geography, and practice size. High prescribers can be targeted for ongoing product announcements. Low prescribers can be targeted for conversion from a competing drug through an awareness program.
The PrescriberPRO Rx data is updated monthly and reflects a rolling 12 months of prescriber volume and is linked to the industry leading PhysicianPRO database, widely recognized for its overall accuracy and dependable group practice linkage. Completely HIPAA compliant, and with complete coverage geographically and across all payer types, PrescriberPRO Rx is the latest value-added enhancement to the HDS solution set.
"Our clients are always looking for better ways to target their messaging to active prescribers", said Chris Lundgren, Healthcare Data Solutions VP of Sales, "and now they can have enhanced targeting by prescribing behavior coupled with the highly deliverable direct mail and email capabilities of PrescriberPRO and EmailPRO. They will see their ROI increase as they target their marketing communications with laser-like precision."
PrescriberPRO Rx is available for immediate use. Contact Healthcare Data Solutions for more information or visit their website.
About Healthcare Data Solutions
Healthcare Data Solutions is an original source data compilation company focused on building and distributing Physician, Pharmacy, Dentist, Nurse and Hospital databases. HDS provides healthcare data, data processing, web services and new customer acquisition programs for leading healthcare marketing firms. With over 2 million healthcare provider profiles and 1 million healthcare provider emails, HDS is the fastest growing provider of healthcare information services. For more information, visit HealthcareDataSolutions.com
###