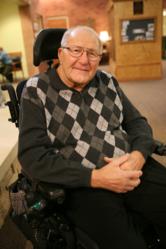 Adverse drug reactions are very common and not always recognized by patient or physician as side effects of a drug
Omaha, NE (PRWEB) May 10, 2011
The volume of medications that older adults are taking is high and so are the risks. Improper use of medications can lead to disaster, as long-time pharmacist Rob Albers knows all too well. The issue hit home for his family when his dad, John Albers, became paralyzed as a result of a medication accident.
Like many seniors, Albers was on multiple medications and, as a World War II veteran, he received his medications by mail order. John Albers also was at risk for one of several factors that make seniors vulnerable to medication-related problems: poor eyesight. He suffers from macular degeneration, which can lead to deterioration of eyesight.
A survey of future caregivers conducted for the Home Instead Senior Care® network revealed that nearly half of their parents (48 percent) have three or more factors that put them at risk for medication-related problems. Among those risk factors – for 37 percent of seniors – is vision problems or poor eyesight.
Fiercely independent, the senior Albers was managing his own medications, noted his son. "He did it all himself. He would arrange and highlight the bottles." What he didn't count on, though, was the drug manufacturer changing the color of one of his medications.
John Albers thought he was taking a blood pressure medication and a blood thinner. But, for three weeks, he was double dosing on blood thinners. "Dad called me at 10:30 one night and said he had severe lower back pain. By the next morning he was paralyzed from the waist down as a result of bleeding in his spine," noted Albers, who was a long-distance caregiver when the accident happened.
The condition has been irreversible, and John Albers, now 89, and his wife moved to a care facility as a result. Rob Albers said he thinks his father's 2007 accident could have been avoided if he'd had a pill planner or a caregiver to help him manage his medications. A clearer understanding of the risks also could have helped Albers and other seniors who may be at similar risks.
That's why the Home Instead Senior Care network has worked with Humana Points of Caregiving to introduce the Caring for Your Parents: Senior Emergency Kit(SM) information management tool and the website. The website provides access to resources that encourage older adults to keep all of their information in one spot so that family caregivers have ready access to these vital details in the event of a medical emergency. The resources are part of the Answering the Call SM program, designed to help families be ready for an emergency with their senior loved ones.
"Adverse drug reactions are very common and not always recognized by patient or physician as side effects of a drug," said Thomas Clark, RPh, MHS, CGP, director of Clinical Affairs for the American Society of Consultant Pharmacists and the ASCP Foundation, who served as an expert source for the Answering the Call program. According to Clark, "Many symptoms may be considered drug side effects unless proven otherwise."
Following are the eight most common types of medication-related problems that could befall seniors, from the American Society of Consultant Pharmacists.
1. Untreated conditions – The patient has a medical condition that requires drug therapy, but is not receiving a drug for that condition.
2. Drug use without indication – The patient is taking a medicine for no medically valid condition or reason.
3. Improper drug selection – The patient's medical condition is being treated with the wrong drug or a drug that is not the most appropriate for the special needs of the patient.
4. Subtherapeutic dosage – The patient has a medical condition that is being treated with too little of the correct medication.
5. Overdosage – The patient has a medical problem that is being treated with too much of the correct medication.
6. Adverse drug reactions – The patient has a medical condition that is the result of an adverse drug reaction (ADR) or adverse effect. In the case of older adults, ADRs contribute to already existing geriatric problems such as falls, urinary incontinence, constipation and weight loss.
7. Drug interactions – The patient has a medical condition that is the result of a drug interacting negatively with another drug or a food.
8. Failure to receive medication – The patient has a medical condition that is the result of not receiving a medication due to economic, psychological, sociological or pharmaceutical reasons.
Family caregivers can visit the Senior Emergency Kit website for more information and resources to help them track their seniors' medications.
For more information about Home Instead Senior Care, contact Erin Albers, marketing and public relations manager, at the address provided in the Contact section of this release. To learn more information about Humana Points of Caregiving, please visit the Points of Caregiving website or call 1-877-260-7277 (TTY: 711) Monday through Friday, 8 a.m. to 8 p.m. Eastern time.
# # #