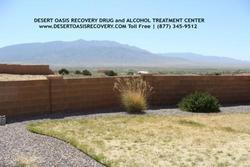 Albuquerque, New Mexico (Vocus) June 14, 2009
Desert Oasis Recovery, an Albuquerque, New Mexico based drug and alcohol treatment center, one of only two privately run centers in the State of New Mexico, announces a new prescription drug addiction treatment program.
Prescription drug addiction is often said to be a silent or invisible epidemic. Normally the only time this addiction seems to surface is when someone famous gets reported as being addicted to prescription drugs, needs treatment or dies. Per Tami Pacheco, the Executive Director of Desert Oasis Recovery, "When a movie star or music artist dies or is admitted into a treatment facility careful attention is paid to those well known people and in turn they do get help. Sometimes when non-celebrities are addicted to prescription drugs their problem quite often goes unnoticed which is painful to know. Part of our mission here at Desert Oasis Recovery is to educate the public about this quiet problem and then let it be known that we are here to help everyone with addiction problems including prescription drug addiction." The difficult and painful part about prescription drug addiction is that prescription drug addiction is the least understood of all addictions and addiction to them is more dangerous because people quite often can get them more readily or the drugs are even being prescribed by their own physician. Drugs prescribed for anxiety and chronic pain are the prescription drugs that most often come up as the problem drugs associated with prescription drug addiction. The difference between prescription drug addiction and illegal drug addiction or alcohol addiction is that the other drugs are not begin prescribed for medical reasons. Quite often the person taking the prescribed drug becomes dependent on the drug, but somewhere along the line the person becomes addicted to the drug and it ends up taking over their lives where nothing stops them from getting the drug of their choice.
Recovery for prescription drug addiction starts with enrollment in an inpatient 12-step drug addiction recovery program like the one offered at Desert Oasis Recovery. Detoxification, then intense therapy including both group and individual therapy is the best approach for beating prescription drug addiction.
About Desert Oasis Recovery
Desert Oasis Recovery is a New Mexico In-patient, and out-patient alcohol, drug, and gambling treatment center. Our staff is made up of people who genuinely care and take extreme pride in providing the best help for chemical dependency, alcohol addiction, and other addictions such as gambling.
# # #