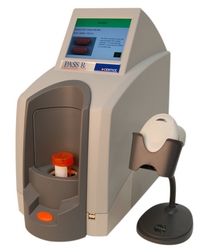 Published data shows that wrong label information and instructions are the most common types of errors. E-prescribing, by improving the computer order entry process, can certainly help alleviate many of these issues
Morrisville, NC (PRWEB) June 4, 2009
Centice Corporation, a pioneer in drug verification and safety, announced today that while published data shows e-prescribing can help reduce the potential for reducing pharmacy errors, e-prescribing should be viewed as a part of a larger solution to improving retail pharmacy quality.
"Published data shows that wrong label information and instructions are the most common types of errors. E-prescribing, by improving the computer order entry process, can certainly help alleviate many of these issues," said Ray W. Swanson, President and CEO of Centice. "However, data also shows that the inspection process has much room for improvement and additional efforts can be made to help pharmacists perform these inspections more accurately."
Mr. Swanson was referring to conclusions drawn from the oft quoted 2003 Journal of the American Pharmacy Association paper National Observational Study of Prescription Dispensing Accuracy and Safety in 50 Pharmacies authored by Auburn professors Flynn, Barker and Carnahan. Data from this study showed that wrong drug or wrong strength dispenses, in the case where the label was correct, were also important contributors to observed errors in the pharmacy.
In summary, increased script volume, fewer resources and manual subjective verification methodologies can unfortunately result in greater risk of medication errors in the pharmacy. Centice Corporation's PASS Rx is the first and only product that utilizes patented spectroscopy and machine vision sensor technologies to confirm the accuracy of a retail pharmacy's dispensed solid dose medications in a matter of seconds. The PASS Rx product strengthens the current final inspection process by helping to assure the pharmacist that the correct drug has been placed in the vial, above and beyond the manual visual inspection of the vial contents, or use of other methods that confirm labeling or packaging.
Centice technologies have additional applicability beyond the verification of solid medications in the pharmacy, and the company has plans to develop future products for liquid medication verification and counterfeit drug detection.
View a PASS Rx whitepaper here; or visit the Centice website at http://www.centice.com.
###