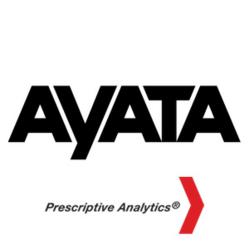 Austin, TX (PRWEB) August 27, 2012
AYATA and McLane Logistics Technology ("MLT") today announced they have entered into a reseller agreement through which MLT will resell AYATA's Prescriptive Analytics® software. MLT is a global logistics, information technology, and training solutions company who is a recognized leader in the Distribution, Government, and Defense industries. AYATA is the leader in Prescriptive Analytics software - Prescriptive Analytics is the final phase of Big Data Analytics. The reseller agreement enables MLT's existing and prospective customers to gain access to the big data analytics software that will enable decision-making to improve future outcomes of their businesses, while getting the industry leading technology infrastructure, domain knowledge and customer support they have come to expect from MLT.
"For years customers have had the ability to look at their historical activities and attempt to draw conclusions about the trends to predict what will happen. However, what was missing were the recommended actions that should be taken to take advantage of these predictions," said Webb Stickney, CEO, McLane Logistics Technology. "This is where Prescriptive Analytics comes in - and only AYATA today has a fully functional software solution for Prescriptive Analytics."
"We are seeing the marketplace ripen for Prescriptive Analytics and AYATA is pleased McLane Logistics Technology has made the commitment to offer the AYATA software solution to MLT's customer base. MLT's 100 years of experience in global supply chain, warehouse, distribution, and technology will allow more organizations to quickly benefit from their growing big data assets," said Atanu Basu, CEO of AYATA.
About AYATA
AYATA is the leader in Prescriptive Analytics® – the science of automatically synthesizing big data, mathematical sciences, business rules, and machine learning to make smarter decisions about future outcomes of a business process. AYATA's enterprise customers' use Prescriptive Analytics software to predict future outcomes of their critical business processes, prescribe decision options, and understand the impact of each decision option. AYATA's technology is adaptive and thus can continuously facilitate accurate decision-making. AYATA is headquartered in Austin, Texas. For more information, contact AYATA at 888.982.9282, or visit http://www.AYATA.com.
About McLane Logistics Technology
Founded on a tradition of excellence and innovation established more than a century ago, McLane Logistics Technology is the forerunner in the distribution industry. Domain expertise sets us apart from other software application providers—our team has spent years optimizing the global operations of supply chains around the world. We know how to use warehouse layouts, processes, and technology to streamline operations. Our dedication to customer excellence starts with a commitment to integrity and high business principles.
####
AYATA Media Contact:
Blaine Kohl
blaine.kohl(at)AYATA(dot)com
1.888.982.9282, ext. 140
http://www.AYATA.com
McLane Media Contact:
Cathy Blurton
cathy.blurton(at)mclaneat(dot)com
254.771.6215
http://www.mclanetech.com
Prescriptive Analytics is a trademark of AYATA. All other company and product names may be trademarks of their respective companies.