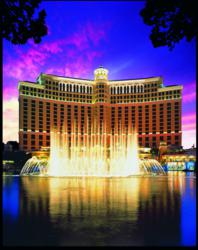 Excellent Scientific symposium in a great location, with a wide variety of speakers and workshops that is well above the standards of most Conferences I have attended in the past. -Dr. Joe Fox, NY, NY
Boca Raton, Florida (PRWEB) April 16, 2013
PRESENT has signed a definitive agreement to host the 2013 Superbones West Conference at the iconic Bellagio Hotel in Las Vegas. The conference will be held October 24-27, 2013. Held the last 3 years at the Aria Hotel, The Venetian and the Encore, PRESENT continues its tradition of bringing podiatry's finest teachers together with successful podiatrists at the coolest premium destinations. There will be a first class lecture program, cutting edge hands-on workshops on the latest surgical and wound care technology, all in a fun, collegial atmosphere of professional excellence. More information is available at SuperbonesWest.com.
PRESENT e-Learning Systems is a medical education and communications company (MECC) that currently runs 3 public online education community websites for medical professionals and publishes educational programming and other original content to over 130,000 members. Founded in 2004, PRESENT e-Learning Systems (PRESENTeLearning.com) is the first company to combine online multimedia medical education with social networking to create online education communities for healthcare professionals. In combining professional education with community, PRESENT has recreated the experience, online, that physicians, nurses and other healthcare professionals are all familiar with experiencing live…that of attending a clinical medical conference. PRESENT is skilled at producing streaming media medical education programming, employing still and video imagery, and animation to enhance the educational content. PRESENT is based in Boca Raton, Florida and employs 19 programmers, graphic artists, multimedia publishers and support people on a full time basis.
The Bellagio is a luxury hotel and casino on the Las Vegas Strip in Paradise, Nevada. It is owned by MGM Resorts International and was built on the site of the demolished Dunes Hotel and Casino. Inspired by the Lake Como town of Bellagio in Italy, Bellagio is famed for its elegance. One of its most notable features is an 8-acre (3.2 ha) lake between the building and the Strip, which houses the Fountains of Bellagio, a large dancing water fountain synchronized to music. Inside Bellagio, Dale Chihuly's Fiori di Como, composed of over 2,000 hand-blown glass flowers, covers 2,000 sq. ft. of the lobby ceiling. Bellagio is home to Cirque du Soleil's aquatic production "O". The main (original) tower of Bellagio, with 3,015 rooms, has 36 floors and a height of 508. The Spa Tower, which stands to the south of the main tower, has 33 floors, a height of 392 ft., and contains 935 rooms.