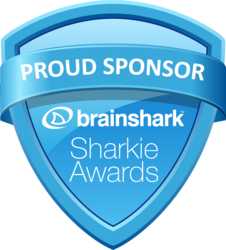 (PRWEB) January 10, 2013
Brainshark has launched their 2013 Sharkies. This is the 5th year for the Academy Awards of Brainshark presentations, with 2013 being the first year BrightCarbon has sponsored the awards.
The Sharkies are Brainshark's annual competition which recognizes excellence in business communications. Each year Brainshark acknowledges the best and most innovative customer presentations in a variety of categories.
The award categories are:

Marketing for Lead Generation
SlideShark Presentations
Humorous Presentations
My First Presentation
Mobilised Presentation
Marketing
Short Presentations (less than 90 seconds)
Creative Expression
Foreign Language
Corporate Communications
Training (external audience)
Training (internal audience)
Charitable Cause
Voiceless Presentation (no narration)
BrightCarbon is sponsoring the Creative Expression category this year. This award will go to the submission which has the most impactful use of multimedia, video, animations, audio, slide design and/or integration into a website/portal.
The top three Brainsharks from each category will be recognized in Brainshark's live online Sharkie Awards ceremony to be held on April 3, 2013. The winner in each category will receive a Sharkie trophy and be eligible for "Presentation of the Year" honors. The Presentation of the Year winner will receive a grand prize (such as a trip, team outing, iPads) valued at $2,000 in total. Second and third place finishers will also win valuable prizes valued at $1,000 and $500 respectively.
Deadline for submissions is February 1, 2013.
About BrightCarbon
BrightCarbon helps sales and marketing teams hit their numbers, by creating visual sales presentations and B2B sales tools. BrightCarbon also supports learning and development teams with effective training material and dynamic content.
BrightCarbon helps companies to tell their stories elegantly and visually. With BrightCarbon:
Sales representatives stop wasting time creating their own collateral, and become more productive
Training is more effective, and easier to deliver
Presentations become visual and more effective
BrightCarbon also offers a complete presentation outsourcing helpdesk service for companies without a dedicated presentation department.
BrightCarbon has offices in the UK, Germany, and Singapore.