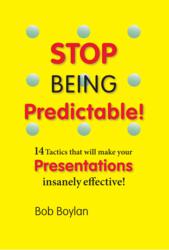 Aspen, CO (PRWEB) February 21, 2012
Bob Boylan, whose latest book is "Stop Being Predictable: 14 Tactics that Will Make Your Presentations Insanely Effective," has started a blog to share tips and stories with presenters.
Boylan has more than 30 years' experience teaching corporate executives how to give effective presentations. He is starting the blog at http://www.bobboylan.com to coincide with the release of "Stop Being Predictable."
"'Stop Being Predictable' is about simple ways to make your presentation stand out from the rest by stepping away from the familiar, predictable patterns," Boylan said.
On the website, readers can purchase an 80-point checklist on how to create, produce,
rehearse and deliver an effective team presentation.
In his blog, Boylan will relate successes from his work with some of the world's top advertising agencies and corporations. Similar stories can be found in "Stop Being Predictable," where Boylan relates anecdotes of his clients' successes using each of the 14 with conference-room tested tactics.
One success story is from a client who followed Boylan's suggestion to have a strong opinion about the information he had been presenting. After months of trying to explain himself and adding more facts in an effort to make it clearer, he made his opinion known. His boss said, "'Why haven't you told me this before? I want to move on that idea pronto!"
Boylan says, "For 30 years my company's name has been 'Successful Presentations.' But my focus is on successful outcomes. Presenters who focus on outcome will naturally gravitate away from giving predictable presentations, so they will have a better chance to attain the desired outcome."
Each of the 14 tactics in "Stop Being Predictable" is a simple idea that can be implemented within 24 hours. While presenters are typically reluctant to get out of their comfort zone, Boylan knows from experience that these tactics will help achieve a better success rate. Readers who need further clarification can access the blog.
Bob Boylan's blog and his new book, "Stop Being Predictable: 14 Tactics that Will Make Your Presentations Insanely Effective," make it easy for presenters to try something new and realize improved success. Boylan knows these techniques work and gives examples of success stories to encourage the reader to stop being predictable.
Bob Boylan, author of three books, is a nationally recognized professional presentation trainer with more than 30 years' experience. Through his company, Successful Presentations, he has been teaching corporate executives across the United States how to give insanely effective presentations.
###