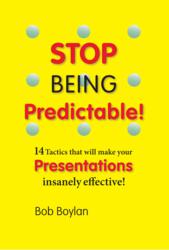 Aspen, CO (PRWEB) January 03, 2012
Bob Boylan's latest book, "Stop Being Predictable: 14 Tactics that Will Make Your Presentations Insanely Effective," has recently been made available on Kindle.
"Stop Being Predictable" is an easy-to-use guide that teaches presenters how to make changes to their presentation style so they will achieve greater success by better satisfying their potential clients with a delivery that doesn't fit the mold.
Boylan has more than 30 years' experience teaching corporate executives how to give effective presentations. "'Stop Being Predictable' is about simple ways to make your presentation stand out from the rest by stepping away from the familiar, predictable patterns," Boylan said.
Dave Paradi, co-author of "Guide to PowerPoint," has estimated that businesses may be wasting a total of $250 million each day as employees give or are subjected to poor PowerPoint presentations.
This is based in part on a New Yorker estimate that 30 million PowerPoint presentations are given daily. Paradi goes on to say, in regard to PowerPoint, "it isn't the tool that we dislike, it is the way that the tool is used that we dislike."
Boylan sees predictability as the scourge of presentations, and he lists several reasons why presenters are reluctant to do things differently: no spare time to think creatively; comfort with presenting in a way that's familiar; fear of giving listeners other than what they expect; and lack of experience going outside of the box in general.
But Boylan points out that a presentation that avoids predictable patterns will be more memorable, more focused, more interesting, more engaging and more energized.
"Stop Being Predictable" is designed to make it easy for presenters to change. The 14 tactics are not complicated or difficult to employ. What's difficult for presenters is stepping out of their comfort zone. Boylan shows presenters how even a small change in approach can yield positive results.
With "Stop Being Predictable," in the time it takes to fly from one city to another, readers can learn about and understand at least one of the 14 tactics and put it to use in their next presentation. With the convenience of Kindle, readers now will be able read about these simple concepts without having to carry a copy of the book around.
"Since each tactic can be executed within 24 hours or less, you can spend your time executing and delivering more effective presentations, rather than reading about how to be more effective," Boylan said.
"Stop Being Predictable" is set up so that in each of the 14 tactics people can recognize themselves in a typical problem situation that commonly occurs during presentations. Then the tactic — Boylan's solution to the problem — is stated. This is followed by a real-life success story about a presenter who used the tactic. The final section in each tactic details what readers can do right now to put the idea into practice.
"You will instantly discover the difference based on how you feel and based on the results you see. Then you will try more of the ideas in your next presentation. Soon it will become second nature to do things differently," Boylan said.
"Stop Being Predictable: 14 Tactics that Will Make Your Presentations Insanely Effective," now available on Kindle, makes it easy for presenters to try something new and achieve improved success. Author Bob Boylan knows these techniques work and gives examples of success stories to encourage the reader to stop being predictable.
Bob Boylan, author of three books, is a nationally recognized professional presentation trainer with more than 30 years' experience. Through his company, Successful Presentations, he has been teaching corporate executives across the United States how to give insanely effective presentations.
# # #