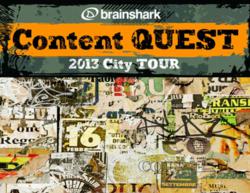 (PRWEB) February 28, 2013
Brainshark have identified that business communicators are always looking for new ways to create content quickly and easily – while ensuring it is engaging. In order to address these challenges the Brainshark Content Quest City Tour will run through March, April and May, providing the tips and skills need to create a good supply of compelling content.
Brainshark are running their 3 Content Quest City Tours across 9 US cities. Each tour focuses on a particular topic with a suitable guest speaker. The topics, cities and dates are below:

Creative – Houston (03.12.13), New York City (03.19.13), Chicago (05.02.13) & Austin (05.16.13)
Breaking Through The Status Quo Barrier – Philadelphia (04.03.13), Washington DC (04.04.13) & Denver (05.14.13)
Resonate – Los Angeles (04.16.13) & San Francisco (04.17.13)
Supporting the tours, BrightCarbon will run 3 different breakout sessions that support the main topic. The sessions are; Creating Sales Conversations – explaining how to create visual sales conversations for iPad and introduces the idea that prospects want a conversation, not to sit still and listen for 30 minutes; Designing Presentations for Mobile – discussing how mobile devices are now taking over every part of our lives, and how it is no longer safe to assume that most of B2B communications will be read on a traditional PC in the workplace; and finally a PowerPoint Animations Boot Camp – discussing how animation is useful for showing how processes work, before and after comparisons, and for showing movement.
Richard Goring, Managing Consultant at BrightCarbon commented on the subject of animation "used to communicate meaning – animation is so important and can really help you to capture your audience's attention and enhance your message."
Registration for Brainshark's Content Quest City Tours is free.
About BrightCarbon
BrightCarbon helps sales and marketing teams hit their numbers, by creating visual presentations and B2B sales tools. BrightCarbon also supports learning and development teams with effective training material and dynamic content.
BrightCarbon helps companies to tell their stories elegantly and visually. With BrightCarbon:
Sales representatives stop wasting time creating their own collateral, and become more productive
Training is more effective, and easier to deliver
Presentations become visual and more effective
BrightCarbon also offer advanced PowerPoint training and presentation skills training.
BrightCarbon has offices in the UK, Germany, and Singapore.