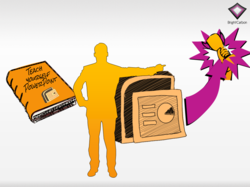 (PRWEB) July 10, 2012
BrightCarbon's Advanced PowerPoint Training course is now available for all under the BrightSparks series of open training events. The BrightSparks series looks to banish death by PowerPoint in all quarters, by focusing on building engaging presentations and demonstrating how to deliver them effectively.
The series covers three distinct areas. The titles of each are: Writing Sales Presentations; which demonstrates and explains how to create effective sales tools, Advanced PowerPoint Training; teaching how to get the most out of PowerPoint, and Presentation Skills; which shows delegates how to present effectively to ensure maximum impact when delivering.
The three courses allow presentation creators to improve their sales tools and ensure they are delivered correctly.
The next event, scheduled for 17 July in London, is the Advanced PowerPoint Training course. This course is designed for anyone aiming to make their presentation stand out and improve their PowerPoint design. The training assumes some familiarity with basic PowerPoint functions, and then goes further covering: using visuals instead of text, animation and complex animation, groups, graphs and designing live graphs, manipulating images, hyperlinks, template and slide masters, and shortcuts.
Following on from this BrightCarbon will run the Writing Sales Presentation course on 29 August, with the Presentation Skills course taking place on 25 September. All events will be in London.
BrightCarbon's Operations Manager Karl Parry had this to say: "Having a series of courses that directly targets the issues of today's sales presentations allows us here at BrightCarbon to continue our war on poorly executed presentations. In this open format, there are more opportunities for people to attend – which can only be a good thing for audiences everywhere."
About BrightCarbon
BrightCarbon helps sales and marketing teams hit their numbers, by offering a full range of presentation services and B2B sales tools. BrightCarbon also runs presentation skills training for sales people, and provides pitch presentation support to clients for their important deals.
BrightCarbon helps companies to tell their stories elegantly and visually. With BrightCarbon:

Sales representatives stop wasting time creating their own collateral, and become more productive
Training is more effective, and easier to deliver
Presentations become visual and more effective
BrightCarbon also offers a complete presentation outsourcing helpdesk service for companies without a dedicated presentation department.
BrightCarbon has offices in the UK and Singapore.