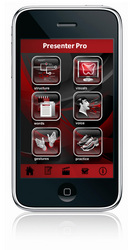 Presenter Pro is full of actionable advice and great examples that help even the experienced presenter improve his or her game.
San Francisco (PRWEB) October 6, 2009
Rexi Media's presentation skills iPhone app, Presenter Pro, made headlines this week by becoming the number one Business app for the iPhone. Based on leading executive training programs developed by Rexi Media, Presenter Pro uses media-rich content to teach business professionals how to deliver high-impact, memorable presentations, without a high-impact, memorable price.
Presenter Pro makes available a caliber of training traditionally only affordable by large corporations. Combining rich supporting graphics, audio and video, with proven techniques from psychology, sociology, advertising, sales, and education, Presenter Pro is designed to give corporate and sales executives, managers, trainers, lawyers and other professionals the skills needed to become outstanding presenters.
"Presenter Pro is full of actionable advice and great examples that help even the experienced presenter improve his or her game." said Gary Swart, CEO, oDesk Corporation. " It's great information to have in your pocket whenever you're getting ready for an important presentation."
A New Breed of iPhone Business App
"Making it to the #1business app has reconfirmed for us that iPhone users are in need of business apps that are both pertinent to their daily work as well as content-rich. iPhone users are getting tired of 'one-minute-wonder' apps that you download once and use twice. The success of Presenter Pro has proven that corporate employees are demanding substantial business apps that provide high value," said Carmen Taran, Executive, Rexi Media. "We wanted to set a high bar for mobile learning from day one. Business users demand substance and will only download and use business apps that are well-designed, rich in content and can immediately provide a return," said Danielle Daly, Executive, Rexi Media.
Rexi Media's release of Presenter Pro is a timely and economical answer to professionals looking for tools to help them stay ahead. Presenter Pro delivers training content that costs thousands of dollars per person in a corporate environment.
An iPhone Application for Business Users
With the success of Presenter Pro, Rexi Media has set a new standard for business applications on the iPhone. By empowering users to be more effective in their daily business lives, Presenter Pro is an indispensible tool for professionals who need to influence audiences. The application is a best-in-class business solution.
Pricing and Availability
Presenter Pro is currently available through Apple's iPhone App Store
About Rexi Media
Founded in 2007, Rexi Media works internationally to provide executive coaching and training designed to help business professionals give outstanding, memorable presentations that transform audiences into advocates. For more information on Rexi Media visit http://www.reximedia.com. For more information on Presenter Pro visit http://www.reximedia.com/products/presenterpro/
For more information, press only:
Holly Kerhoulas
Phone: (925) 406 0921
Email: holly(at)reximedia(dot)com
###