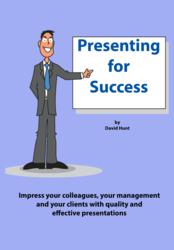 Almost everyone in business, public sector or education is required to give presentations, yet they are rarely trained to do so. This short practical guide will help people in all walks of life deliver professional and effective presentations.
(PRWEB UK) 28 September 2012
Giving presentations, for whatever reason, is something that is increasingly required in all walks of life. For example,
A senior manager presenting a business plan
A sales person presenting a proposal to a prospective client
A marketing person presenting at a conference or in a web seminar, usually called a webinar, webcast or web event
A school teacher, trainer or lecturer or even a student presenting some topic to a class
The ability to present is something that will have an important financial bearing on the success of almost every business, school, government department and even individual people. It is therefore, a skill worth developing. Unfortunately, very few organisations devote any time or budget to helping their staff or students become proficient in this capability and lose revenue, personal income or graduation marks as a result.
The author, David Hunt, has sat through many hundreds of pretty tedious presentations and a handful of excellent ones. He has been fortunate to have worked for several businesses that have invested in presentation training.
Whilst not everyone has the personality or confidence to stand up in front of an audience, or sit down to communicate via the internet to a remote audience; many will still be required to do so.
Anyone can give a quality, effective and professional presentation; they just need to follow the simple guidance given in this short book. The author contends that no one should ever give a poor presentation again.
The objective of this book is not to try and teach people any form of acting skills or take people outside their comfort zones. It is to help make their deliverances professional and more interesting to their audience to maximise the positive impact and impression they leave them with. Their reputation and confidence will rise as a result.
"Presenting for Success" will provide readers with some practical, pragmatic and simple steps they can take so that they can present the right image of themself and their organisation.
With the competition for jobs and sales getting more intense in the current economic climate, the practical steps in this book could help the reader
Land a new job or promotion
Win new sales
Gain management approval for a proposal
Persuade financiers to invest in his / her business
Deliver improved training or demonstrations
Improve his / her standing with their management
and so much more.
For more information on "Presenting for Success" check out The WebEvents Company website.
The author founded The WebEvents Company specifically to help businesses of all sizes use Webinars (web seminars) to find new customers in new markets that would otherwise be unreachable. Good presentation techniques are even more important when presenting to an audience on the internet that the presenter cannot see.