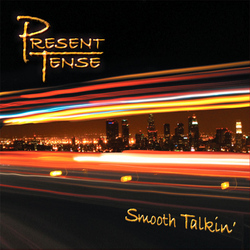 We bring a freshness to our compositions, and while this is a studio release, the recordings have a live feeling to the performances.
Hollywood, CA (PRWEB) January 28, 2009
A national radio campaign of Present Tense Jazz's single Smooth Talkin' featuring Eric Marienthal on sax, is currently underway. The title track is a follow up to the 2008 release of the CD entitled Smooth Talkin - the single on the CD release campaign was Smiles. The CD achieved #31 on the national smooth jazz charts.
The Los Angeles based ensemble is bringing it's jazz jam band sound to the airwaves as a fresh and organic response to much of the 'over produced' contemporary jazz heard on the radio today. According to Richard Frank, the bassist and producer of the group, "We bring a freshness to our compositions, and while this is a studio release, the recordings have a live feeling to the performances."
Drummer, composer and producer Ronnie Kaufman (of GAP Band fame) shares similar thoughts: "All these tracks were recorded live - no loops. So what we've achieved is a contemporary sound with a traditional approach to the recording." Both the CD and live performances of Present Tense reflect this approach to creating a 'jazz jam band' experience. Utilizing the acoustic bass on all of the CD's tracks also lends to this mixture of traditional elements and contemporary sounds.
Music Connection Magazine sums it up, "Like a sleek, fast rollercoaster, the music challenges listeners to hold on tight and enjoy the ride."
The band is also known as PTJazz, since their website is http://www.ptjazz.com. Their influences include Chick Corea, Joe Sample, Boney James, Dave Matthews, Sting, Phil Collins and numerous classic rock and R&B masters. Ronnie Kaufman roots stem from numerous GAP Band recordings, tours and several gospel and R&B projects with Bobby Womack and Rene & Angela. Richard Frank's background is a musical rainbow which includes rock, jazz, pop, classical and ethnic musics. He has toured nationally with Harry James Orchestra and played the classic symphonic repertoire with the American Youth Symphony under Mehli Mehta.
Garnishing accolades from the Southern California jazz community, Present Tense Jazz won the Best Fusion Artist from the Long Beach Jazz Search, was a Finalist with the Great American Song Competition for "Smiles" written by Richard, and collected two nominations for Best Jazz Artist from the Orange County Music Association and the Los Angeles Music Awards. According to Matt Cibula of Music Critic.com, "This is a group to watch closely."
For additional information on the smooth jazz jam band Present Tense Jazz, or their recent release Smooth Talkin', please visit http://www.ptjazz.com.
Contact:
Elizabeth Warner
Bookings and Appearances
818.599.3887
elizabeth (at) elizabethwarner (dot) tv
###