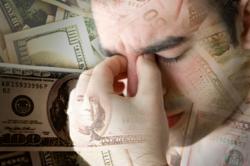 Wall Street analysts, economists, and politicians...are often dead wrong...in their predictions.
Toms River, NJ (PRWEB) July 24, 2012
Anyone who has ever listened to Wall Street analysts, economists, and politicians will have noticed something they would be quite hesitant to admit: they are often dead wrong in their stock market and economic predictions. History may forget their off-base predictions, but those who were negatively affected by them will always remember!
Some predictions are famous for their boldness, like Joe Namath's guarantee of a Super Bowl victory for the New York Jets in 1969. Others have been conveniently lost in history archives. Consider these two:
"Man will not fly for 50 years." - Wilbur Wright, to brother Orville, two years before their first successful flight. "There is no reason for any individual to have a computer in his home." - Ken Olsen, President, Digital Equipment, 1977.
Those who make poor predictions usually don't forget them, particularly when their lives are affected dramatically. Most people have never heard of Ken Olsen or his prediction above. One thing is certain: Ken Olsen, his family, and his former employees remember it well!
This first part of a four-part series on the uncertainty of the stock market highlights examples of poor economic predictions from the Great Depression era:
"The end of the decline of the stock market will probably not be long, only a few more days at most." - Irving Fisher, Professor of Economics, Yale Nov. 14, 1929 (http://www.wallstreetbear.com).
Check out the date above: Dr. Fisher, a highly respected economist, said this about 2-3 weeks after the Great Stock Market Crash in October of 1929. For those who completely slept through this section of high school American history class, the stock market did not recover in a few days. It continued on for the next decade, right into World War II. In fact, a full recovery really didn't occur until after World War II, and the Dow did not get back to its high mark of 1929-back to even-until 1954 (http://www.online-stock-trading-guide.com). That's not a typo. Dr. Fisher was about 25 years off in his prediction. Sorry investors!
Not to be outdone, President Hoover had this to say to a group of businessmen in June, 1930, about 8 months after The 1929 Crash: "Gentlemen, you have come 60 days too late. The depression is over" (http://www.digitalhistory.uh.edu).
No matter how good his intentions and the backing of any financial "experts" he consulted, President Hoover was dead wrong! If one Google's "Great Depression Quotes," one will find dozens of such quotes during the decade of the 30's from all sorts of financial and political experts.
Part II of this series has several examples of bad predictions from the past decade. Whether it was during the 1930's or today, there are good reasons not to completely trust predictions of economic recovery from either Washington or Wall Street.
Brian Solik, CRPC is President and Founder of Wealth Preservations Strategies of NJ. He is a former Wall Street broker who now focuses on educating investors on how to maximize their financial security and minimize taxes. If you would like to receive the remainder of this article contact Brian at 732-415-7717, bsolik(at)brokersifs(dot)com or visit his website http://www.wpsnj.com.
Securities and investment advisory services offered through Brokers International Financial Services, LLC, Panora, Iowa. Member FINRA/SIPC. Brokers International Financial Services, LLC and Wealth Preservation Strategies of NJ are not affiliated companies. The opinions expressed are those of Brian Solik and not necessarily those of Brokers International Financial Services, LLC.