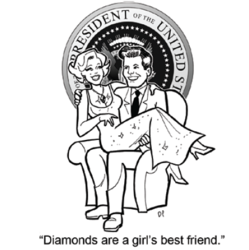 The absence of any unwanted or inappropriate sexual advances makes such Sugar arrangements a healthy and legal alternative to workplace sexual harassment.
Los Angeles, CA (PRWEB) February 07, 2012
According to her recently published memoir, Mimi Alford had an 18 month affair with President John F Kennedy when she was a 19 years old virgin, while she was working as a White House intern. Though this revelation may come as a shock to those who thought the White House would be resilient to such clichés, it actually marks the beginning of an upward trend in American society. Today, such workplace affairs between a much more powerful Sugar Daddy, and a much younger Sugar Baby is already well entrenched in the American popular culture.
According to Seeking Arrangement, the largest Sugar Daddy dating website in the United States, as many as 12% of its Sugar Daddy members have followed in President Kennedy's footsteps by adding Sugar Babies onto their payroll. Earlier in 2009, the website named President Kennedy as the most famous Sugar Daddy for his relationship with American icon, Marilyn Monroe.
"We already know that President Kennedy was a married Sugar Daddy, and a charming playboy much like Hugh Hefner," says Brandon Wade, Founder and CEO of SeekingArrangement.com, WhatsYourPrice.com and MissTravel.com. "However, if Mimi's account is accurate, JFK's relationship with her may have been considered sexual harassment at the workplace by today's legal standards."
On SeekingArrangement.com, approximately two in five Sugar Daddy members are in powerful employer positions, including numerous high-level to mid-level Fortune 1000 executives, politicians, entrepreneurs and small business owners.
In a recent survey conducted by the website, 63% of its Sugar Babies members polled say they would consider accepting a position to work for their Sugar Daddy. And the top three reasons Sugar Babies are attracted to such career-oriented Sugar arrangements: (1) Career opportunities with better salary and career advancement opportunities; (2) Benefits of Sugar Daddy mentorship and career advice; and (3) Mixing pleasure and work can be a lot more fun.
"Workplace Sugar relationships are a part of our popular culture, and its attraction has only increased during the past few years as our economy has tanked," says Wade, who holds a Bachelor's degree and an MBA degree from the Massachusetts Institute of Technology. "When a Sugar Daddy hires a Sugar Baby to work for him, it is like hiring one's wife or girlfriend. The absence of any unwanted or inappropriate sexual advances makes such Sugar arrangements a healthy and legal alternative to workplace sexual harassment."
For more information about SeekingArrangement.com, please visit our website.
To interview Brandon Wade, or to speak with members of SeekingArrangement.com regarding workplace Sugar relationships, please contact us via email at press (at) seekingarrangement.com, or call Jennifer Gwynn at (702) 241-0100.
About SeekingArrangement.com
SeekingArrangement.com is the largest Sugar Daddy and Sugar Baby social network named "The Best Sugar Daddy Fishing Hole" by the New York Times. Launched in 2006, the dating website currently boasts over 1 million members. In 2009, Brandon Wade, the website's Founder published "Seeking Arrangement", the definitive guide to sugar daddy and mutually beneficial relationships. Since then, the website has been setting a higher standard by defining the modern Sugar Daddy as a respectful gentleman who seeks to empower those he meets, and the Sugar Baby as an attractive, intelligent, self-confident, and goal oriented individual.
###