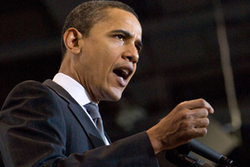 the waging of peace demands the best we have.
Washington, DC (Vocus) July 1, 2010
President Barack Obama will deliver remarks on the need to fix the nation's broken immigration system through comprehensive immigration reform at American University's School of International Service on Thursday, July 1.
Obama's immigration address at American University underscores the university's commitment to public service and international understanding, and its tradition of learning from leaders who are connected, influential and deeply engaged in the critical issues of our time.
Obama's remarks will take place at American University's new 70,000 square foot, eco-friendly home of the nation's largest School of International Service whose faculty and students are focused on solutions to the most significant challenges facing our world—wonks in the truest sense of the word.¬
Obama returns to American University, the site of the Kennedy family's historic presidential campaign rally endorsement on January 28, 2008. Coming back to deliver a presidential speech, Obama extends AU's history of presidential visits:
In 1914, when American University opened, President Woodrow Wilson gave the dedication.
In 1934, at the launch of AU's program to help train federal employees in new methods of public administration, President Franklin Roosevelt promised it would have the "hearty cooperation" of his administration. The program is now in AU's School of Public Affairs.
In 1957, President Dwight Eisenhower broke ground for the School of International Service and urged all to remember that "the waging of peace demands the best we have."
In 1963, President John Kennedy gave a pivotal foreign policy speech at AU's commencement calling on the Soviet Union to work with the United States on a nuclear test ban treaty.
In 1993, President Clinton addressed AU's Centennial Convocation and focused on the economic leadership America must exert at home and abroad in a new global economy. Clinton returned to AU in 1997 and emphasized the need for equity in accessing higher education.
In 2005, President Jimmy Carter launched the bipartisan Commission on Federal Election Reform from AU.
Press Information: American University professors are available to provide expert commentary and opinion on immigration reform, the presidency and other topics. Contact AU's Communications Office at 202-885-5950 to arrange an interview with one of AU's faculty experts. Press attendance at the event is being handled through the White House Press Office.
Located in Washington D.C., American University is a leader in global education, enrolling a diverse student body from throughout the United States and more than 140 countries and providing opportunities for academic excellence, public service, and internships in the nation's capital and around the world.
###