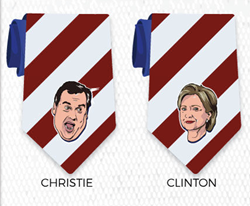 No, this is not an April fools joke...
San Francisco, CA (PRWEB) April 01, 2015
Online tie retailer Bows-N-Ties created a collection of presidential themed neckties for the presidential race 2016. In total the collection encompasses 12 different ties, all featuring an American flag on the background, as well as the face of individual candidates printed on near the bottom of the tie.
"No, this is not an April fools joke," ensures Bows-N-Ties founder Hendrik Pohl. "After Ted Cruz was the first to officially announce his candidacy last week, our designers came up with this idea of creating a themed tie collection for the 2016 Presidential Race. It is a great way to not only have fun with American Politics, but also to get young voters excited and more engaged about the upcoming election," says Pohl.
The collection shows caricatures of 12 different candidates including Republicans Ted Cruz, Jeb Bush, Chris Christie, as well as Democrats Hillary Clinton, Martin O'Malley, and Joe Biden. "We felt like we had to include a few wild cards as well," says Pohl. "While Donald Trump and Sarah Palin are unlikely to run, we had fun adding their faces on an American flag themed necktie."
Which of these 12 ties eventually go into production will be decided on April 30th. Until then, Bows-N-Ties' lets people vote on their favorite Presidential tie. "We wanted our customers be the ones who decide which ties go into production", says Pohl. "For the next 30 days our customers can vote on their favorite Presidential necktie. We will then produce those 5 which are most popular."
The retailer expects to have the actual 5 ties in stock by Summer 2016. "These ties are unlikely to be sold on our site. Instead we are planning on giving some out for free to our customers and followers. We are also playing with the idea to send a few thousand out on the campaign trail," says Pohl.
For more information please visit: Bows-N-Ties.com