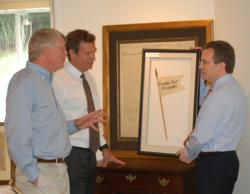 Titled "History You Can Own", the exhibit offers a rare glimpse into the past and a unique opportunity to own an authentic piece of Americana including many items from former Presidents of the United States.
Westchester, NY/Fairfield, CT (PRWEB) September 06, 2012
On October 4th, the 85th anniversary of the day sculpting began on Mount Rushmore, visitors to Rockwell Art and Framing in Westport will be treated to a special presentation of historic documents and artifacts from 100 milestones in American history, including the miniature bust of Abraham Lincoln that Stamford native Gutzon Borglum carried with him while sculpting Mount Rushmore. A grand opening celebration will take place at the Gallery located at 236 Post Road East from 6:00 pm – 9:00 pm with a special unveiling at 7:15 pm of the chair Abraham Lincoln was seated in when he received the nomination for president.
The contemporary art that adorned the walls of the gallery has been replaced by documents signed by the Mount Rushmore four: Washington, Jefferson, Lincoln and Roosevelt, along with other historical figures including Thomas Jefferson, Robert E. Lee, and even Muhammad Ali, to name a few. Other items such as a golf hat worn by Bill Clinton and a pen set owned by John F. Kennedy, are also on display as is a signed photograph of Presidents Regan, Ford, Carter and Nixon from 1981.
Titled "History You Can Own", the exhibit offers a rare glimpse into the past and a unique opportunity to own an authentic piece of Americana. The venture is a collaboration between Seth Kaller of Seth Kaller, Inc. in White Plains, New York, John Reznikoff of University Archives in Westport, Connecticut and Stephen Rockwell Desloge, owner of the six Rockwell Galleries in Fairfield County, Connecticut. "This is a great opportunity for us to take items out of the vault and create a public window for people to get up close and personal with incredible pieces of American history," stated Seth Kaller.
Seth Kaller is a leading dealer and agent specializing in important historic documents and building museum-quality Legacy Collections. He has handled manuscripts and documents relating to the Declaration of Independence and the U.S. Constitution; leaves from George Washington's draft of his inaugural address; Abraham Lincoln's "House Divided" manuscript and signed copies of the Emancipation Proclamation and 13th Amendment, and Robert E. Lee's farewell to his troops. Portraits of George Washington by Gilbert Stuart and Rembrandt Peale, Jean-Antoine Houdon's bust of Thomas Jefferson, and Childe Hassam's flag painting, "Fourth of July, 1916," are among the important works of art Kaller has acquired for clients who buy for personal enjoyment but also often for sharing with the public. This year's exhibits of documents Kaller has acquired for clients include the Smithsonian Institution, Fairfield Museum & History Center, The White House, Lincoln Cottage, the National Museum of American Jewish History, New-York Historical Society, Mount Vernon and others.
At eight years old, John Reznikoff was given some stamps by his grandmother, who had years before escaped Nazi Germany which sparked his interest in collecting. At age 13, his mother would ferry him back and forth to various trade shows, watching as her son conducted business from table to table, trading, selling and buying famous stamps, baseball cards and autographs. In his 30 years in business, he has bought and sold over $200 million in collectibles. Currently, his company, University Archives, owns two of John F. Kennedy's cars, Ernest Hemingway's typewriter, and Annie Oakley's gun, amongst many other great treasures. Reznikoff often brings a more modern twist to his collecting as well, obtaining highly sought after items from sports heroes and rock stars.
Stephen Rockwell Desloge retired as Vice President in Charge of Southern New England Region Site Selection with Enterprise Rent a Car in 1998. A native of St. Louis, Desloge chose to settle in Wilton in 1988, at the time having no knowledge of his family heritage. He is a direct descendent of the Rockwell family who settled in Wilton in the late 1600's, fought in the Revolutionary War, and are buried in various Wilton cemeteries. Desloge's family history also includes a connection to the great American painter Norman Rockwell. In 2003, he purchased Wilton Art and Framing which now has six locations throughout Fairfield County.
"We are quite excited to bring this incredible collection of historic artifacts to Westport and the surrounding area. There is no place else you can view authentic American treasures like these except in a museum and usually behind glass. At our location, you can actually purchase them and keep them in your family for future generations to learn from and enjoy," stated Desloge.
A sampling of items in the gallery:

Abraham Lincoln signed military commission for future director of U.S. Mint, $11,000
The first facsimile of the Declaration of Independence (1819), $12,000
Mark McGwire signed baseball bat, $1,250
Currier and Ives print from 1860 showing Lincoln at bat in a baseball match, calling it the "National Game", $12,000
George Washington signed letter preparing for surprise attack on British in NY city, $27,500
Thomas Paine's Common Sense, rare early 1776 Boston edition, $30,000
Theodore Roosevelt warning against sports becoming a permanent business, $4,500
Albert Einstein silver print signed by Halsman, $ 9,500
J.P. Morgan signed $1,000 bond, $1,750
George Washington signature and lock of hair, $6,900
Grateful Dead signed guitar, $1,250
Civil War newspapers starting at $100
Abraham Lincoln Nomination Chair, $145,000
The gallery items will rotate throughout the year and all are available for purchase. For more information call the Rockwell Art & Framing Gallery at 203-227-1800. More information on the specific items for sale can be found at http://www.sethkaller.com
# # #