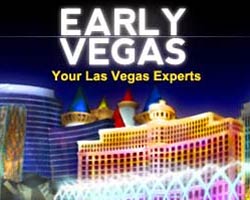 Luckily, EarlyVegas has the scoop on the hottest President's Day deals and events in Las Vegas this year.
(PRWEB) February 15, 2013
There's no better way to celebrate George Washington's birthday than by spending President's Day weekend celebrating American freedom and the right to party in Las Vegas. The third Monday in February is President's Day, and for those who have the day off from work on February 18th this year, a weekend trip to Las Vegas could be the best way to enjoy that extra day. A Vegas vacation over a the holiday weekend for President's Day could be expensive though, since Las Vegas hotels and casinos tend to overcharge on busy weekends. Luckily, EarlyVegas has the scoop on the hottest President's Day deals and events in Las Vegas this year. Here are the Top Las Vegas Hotel Deals and Events for President's Day weekend 2013:
1. Stone Sour & Papa Roach perform at the Hard Rock Hotel and Casino on Friday, February 15th at 8:00 pm to kick off the President's Day weekend in Las Vegas. With their current hit single as one of the most added active rock songs, "Where did the Angels Go," Papa Roach is going to rock out in Las Vegas at the Hard Rock, and Stone Sour will close the show. Tickets start at $35! Plus, if you need to book a hotel room, The Hard Rock Hotel is offering a Stone Sour & Papa Roach Room & Show package! Starting at $179, this Las Vegas promo code includes a one night stay and two tickets to the Stone Sour & Papa Roach show on February 15th.
2. For those looking to party for President's Day in Las Vegas, Rockhouse at the Venetian is offering drink deals to celebrate Washington's birthday and the rest of our United States Presidents this weekend. For those on a budget, pay $1 to pop a George Washington Apple Fireball shot, $2 for a Thomas Jefferson Southern Comfort Lime Shot, and $5 for the Red Stag Black cherry shot. Partygoers who are wanting to rage and are willing to dish out a few more Lincolns and Hamiltons, $10 gets the Alexander Hamilton Maker's Mark Bourbon shot, and $20 gets any amigos a Don Julio 1942 Andrew Jackson shot. For all those high rollers out there who truly love the USA, spend $50 for a Patron Platinum Ulysses S. Grant shot or $100 for a Rockhouse T-shirt and a Benjamin Franklin all presidential shot. This President's Day special runs from Friday, February 16th to Monday, February 18th.
3. P!NK performs with The Hives at the Mandalay Bay Events Center on Friday, February 15th of President's Day weekend. Rock out and find out The Truth about Love with P!NK this Friday. Tickets cost between $59.50 to $139.50 plus fees and taxes.
4. Taylor Hicks, winner of American Idol, will perform at Napoleon's inside the Paris Las Vegas at 8:00 pm on President's Day, Frebruary 18th. Theres no better way to celebrate President's Day and being an American than by listening to some bluesy country hits with Taylor Hicks in Las Vegas.
5. Steve-O and Tom Green perform their comedy show at the Riviera at 10:30 pm on February 14th-17th 2013 as part of The Icons of Comedy's Original Pranksters Comedy Tour. Famous for their self-induced pain and dangerous stunts, Steve-O of Jackass and MTV star Tom Green are a duo that will leave you falling out of your seat with laughter at their Las Vegas comedy show over President's Day weekend. Tickets for this Vegas show cost between $39.99 to $69.99.
This article was written by travel expert Ariel Abbott, Editor of EarlyVegas.com
About EarlyVegas.com:
EarlyVegas.com is an authority on how to save money and get the best value when planning travel to Las Vegas. EarlyVegas.com searches the web for the best packages, specials, promotions, deals, and promo code offers that help travelers save and get the most value when booking hotel rooms, tours, and shows in Las Vegas.