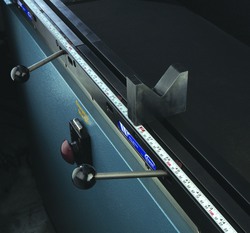 White Bear Lake, Minn. (PRWEB) October 15, 2007
Press brake fabricators tired of losing productivity to die changes now have two new ways to dramatically speed up the process from Wilson Tool International. Both the PowerExpress® die clamp and Express Clamp® die holder eliminate the need for tedious set screws, allowing users to change dies in moments.
The Power of Push Button Die Clamping
The automated PowerExpress hydraulic die clamp offers one touch clamping for American-style press brakes. Upon loading the die, the press operator simply presses a button to securely and accurately clamp the die in place. Another press of the button unclamps the die for fast changeouts.
Designed for easy use and handling, the PowerExpress die clamp is made in two-foot modular sections that can be installed by a single press brake operator. Together with Wilson's PowerExpress upper beam clamp, the die clamp provides a complete hydraulic clamping system for leaner, more productive bending.
Rapid Die Setups are a Lock with One Pull
Wilson Tool's new Express Clamp mechanical die holder provides instant and secure clamping with the pull of a lever. Reversing the motion releases the die just as easily. This time-saving product is compatible with virtually any make or model of American-style press brake.
Both the automated PowerExpress and the mechanical Express Clamp are treated with Wilson Tool's exclusive Nitrex™ high endurance surface enhancement. Wilson's patented process provides a surface hardness of HRC-70 to significantly extend clamp life.
Die Clamps On Display at FABTECH 2007
Wilson Tool International will showcase the new PowerExpress and Express Clamp technologies, plus an array of tooling innovations, at FABTECH 2007, November 11-14, booth #16107.
About Wilson Tool International:
For more than 40 years, Wilson Tool International® has been a leading provider of tooling solutions that enhance the performance of sheet metal fabricating machinery worldwide. Wilson Tool is the world's largest independent manufacturer of tooling systems for punch presses, press brakes and punch and die components for the stamping industry. Products are manufactured at the company's world headquarters in White Bear Lake, Minn., USA, at their European facility in Swindon, England, and now at their site in Shanghai, China, which serves a growing customer base in that region. Wilson Tool's network of sales engineers and international distributors operate in virtually every industrialized nation around the globe.
###