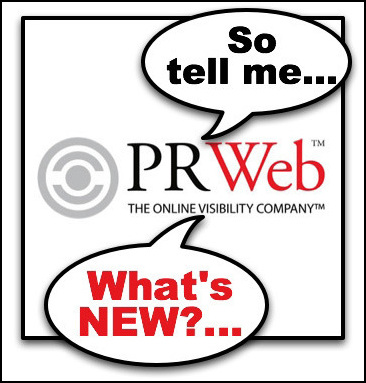 We are thrilled to have been selected as a finalist by SIIA, with so many outstanding companies submitting in this year's competition
Ferndale, WA (PRWEB) January 18, 2007
PRWeb, the Internet's leading direct-to-consumer press release newswire and a Vocus (NASDAQ:VOCS) company, announced today that it has been recognized as a finalist for the prestigious Software & Information Industry Association's (SIIA) 2007 Codie Awards in the Best Online News Service category. The Best Online News Service Category represents one of three categories in which a Vocus product or service is a Codie Award finalist.
"We are thrilled to have been selected as a finalist by SIIA, with so many outstanding companies submitting in this year's competition," said David McInnis, founder and CEO of PRWeb. "Although the rising prominence of social media and the Internet have fundamentally changed communications, the need for companies to connect with their target audiences in a meaningful way has not changed. Using search engine optimization and social media tools, PRWeb's direct-to-consumer press release distribution allows customers to do precisely that."
As an innovator and acknowledged leader in online news release distribution since 1997, PRWeb has created a simple, easy to use platform to ensure its customers' news releases reach the media and the masses.
In addition to the Best Online News Service category, Vocus PR Software suite was selected as a finalist in the Best Business Productivity Solution, and Vocus' Premium Media Database was selected as a finalist in Best Online Business Information Service.
This year's finalists were chosen from more than 1,200 nominations submitted by more than 600 companies -breaking the record set in the 2006 awards. Over 219 individuals in the trade press, consulting, educators, IT specialists and other neutral specialists have reviewed all of the products entered. The winner will be announced at the 22nd Annual Codie Awards Gala to be held on April 17, 2007 at the Palace Hotel in San Francisco, CA.
For a complete list of finalists in this year's competition, please go to http://www.siia.net/codies/2007/finalists.asp.
About PRWeb
PRWeb is recognized as a leading online news and news release distribution service worldwide. Since 1997, PRWeb has been changing the way businesses, marketing departments and public relations firms think about press releases. PRWeb was the first company to develop a distribution strategy around direct-to-consumer communication and to build and offer a search engine optimized platform for press release distribution.
PRWeb is a wholly-owned subsidiary of Vocus, Inc. (NASDAQ: VOCS), a leading provider of on-demand software for corporate communications and public relations. Located in Ferndale, WA, PRWeb is available online at http://www.prweb-inc.com.
About Vocus, Inc.
Vocus, Inc. (NASDAQ: VOCS) is a leading provider of on-demand software for corporate communications and public relations. Our web-based software suite helps organizations of all sizes manage local and global relationships and communications with journalists, analysts, public officials and other key audiences. Our software helps customers manage media relations, monitor and analyze their news, conduct interactive email campaigns, build online newsrooms and manage government relations activities. Vocus' PRWeb platform is also recognized as one of the Internet's leading online news and press release distribution services. Vocus' software is available in five languages and can be accessed from any computer via secure login over the internet with no need for internal hardware, software or IT support. Vocus is based in Lanham, MD with offices in North America, Europe and Asia. For more information please visit http://www.vocus.com or call 800.345.5572.
This release contains "forward-looking" statements that are made pursuant to the Safe Harbor provisions of the Private Securities Litigation Reform Act of 1995. Statements that are predictive in nature, that depend upon or refer to future events or conditions, or that include words such as "may," "will," "expects," "projects," "anticipates," "estimates," "believes," "intends," "plans," "should," "seeks," and similar expressions are forward-looking statements. Forward-looking statements involve known and unknown risks and uncertainties that may cause actual future results to differ materially from those projected or contemplated in the forward-looking statements. Forward-looking statements may be significantly impacted by certain risks and uncertainties described in Vocus' filings with the Securities and Exchange Commission.
Contacts:
Robin Lane
Vocus, Inc., director, public relations
301-683-6022
Kathy Sheehan
PRWeb, managing editor
360-312-0892
###