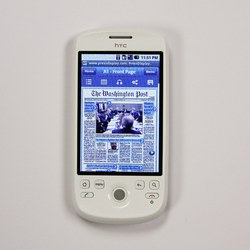 We believe in giving readers what they want: their favorite publications, in their entirety, presented in a familiar, intuitive format, wherever readers are, and on whichever device they prefer
Vancouver (PRWEB) January 7, 2010
Only days after announcing PressDisplay.com support for the Sony and Kindle devices, NewspaperDirect Inc., the world leader in multi-channel newspaper and magazine distribution, announced that PressDisplay.com is available for mobile phones running the Google Android mobile operating system, including Google's latest handset, the Nexus One.
Starting today, PressDisplay.com subscribers can point the Web browser on their Android phone to http://www.PressDisplay.com and enjoy any of the more than 1,400 local, national and international titles currently available on the world's largest online newspaper and magazine kiosk. Unlike other news aggregation sites, which provide a limited sample of free news stories from an assortment of news sources, PressDisplay.com offers full-content newspapers and magazines in an intuitive digital format that replicates the printed edition.
PressDisplay.com has also been optimized for Android, making it extremely easy to browse and read entire publications, including all images, cartoons, puzzles, and even advertisements. Navigational controls and gestures such as tables of contents with sections, zoom and pan, and page scrolling are supported. Other advanced features include full graphics and text views, auto-jumps that link articles spanning different pages, cross-title search, article sharing, commenting, text-to-speech, and access to back issues.
PressDisplay.com is popular with consumers who want access to multiple news sources, and corporate customers who need to monitor printed media for business-critical news. With more than 1,400 full-content digital replicas of newspapers and magazines from 93 countries in 44 languages, the website is also the standard in more than 2,500 libraries worldwide. Some of the prestigious titles from around the world available on PressDisplay include The Washington Post, USA Today, Toronto Star, National Post, The Guardian, International Herald Tribune, Daily Mail, Irish Independent, L'Equipe, Il Giornale, Iltalehti, Bangkok Post, Kommersant, and De Volkskrant.
"We believe in giving readers what they want: their favorite publications, in their entirety, presented in a familiar, intuitive format, wherever readers are, and on whichever device they prefer," said Alex Kroogman, CEO of NewspaperDirect. "And, in addition to providing the broadest range of distribution choices for our customers, we offer a proven paid content business model to our publishers -- at no operational cost to them."
Effective immediately, publishers of the hundreds of private-label SmartEdition newspapers powered by PressDisplay technology can offer their subscribers their e-editions on Android devices. Whenever PressDisplay.com supports a new device, it is also made available to NewspaperDirect's publishing partners for their own SmartEditions.
About NewspaperDirect Inc.
NewspaperDirect delivers the world's newspapers and magazines to millions of readers the way they want to receive them -- in print, online, or on their mobile device or e-reader -- wherever they live, travel, work or play. With the most innovative digital publishing technology in the industry and the only zero operational-cost business model, NewspaperDirect is recognized as the world leader in multi-channel content distribution and monetization, and is the chosen partner of more than 1,400 publishers from 93 countries.
Optimized for PCs, Macs, Smartphones, iPhone, iPod Touch, BlackBerry, and various popular e-readers, NewspaperDirect's flagship products (PressDisplay.com and PressReader) transcend the traditional RSS or text-based formats of other digital editions, delivering full-content publications that are compliant with international audit bureau requirements. PressDisplay.com also enhances the reading experience with powerful features such as cross-title search, monitoring, article ranking, bookmarks, instant translation, on-demand audio and social features that allow readers to comment on content, share articles, and interact with other readers.
SmartEdition, powered by PressDisplay technology, offers publishers a fully customizable digital edition platform with powerful and proprietary back office reporting and analysis tools (Reading Map, Ad Value Map) that help them optimally manage their content and advertisers. NewspaperDirect provides full hosting, payment acceptance, customer service management, and technical support.
Media resources
NewspaperDirect website: newspaperdirect.com
PressDisplay website: pressdisplay.com
PressDisplay blog: blog.pressdisplay.com/
Facebook: facebook.com/PressDisplay
Twitter: @pressdisplay
Media contact:
Tim Cox, ZingPR, tim@zingpr.com, +1-650-369-7784
PressDisplay.com, PressReader and SmartEdition are trademarks or registered trademarks of NewspaperDirect Inc. All other trademarks and registered trademarks belong to their respective owners.
###