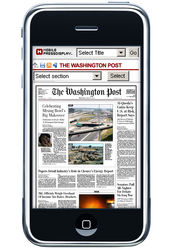 The iPhone is the perfect mobile platform for PressDisplay.com because its rich user interface complements the advanced navigation and browsing capabilities of PressDisplay
Vancouver, Canada (PRWEB) July 23, 2007
NewspaperDirect Inc. today announced that the world's largest online newspaper kiosk, PressDisplay.com, is now available on the iPhone, and as a special promotion, it is being offered free of charge for one month to all iPhone users.
iPhone users can point their Safari browser to http://www.pressdisplay.com to enjoy many of the biggest newspaper titles from the United States -- including The San Francisco Chronicle, The San Jose Mercury News, The Los Angeles Times, The Washington Post, and The New York Post, plus hundreds of international newspapers such as The Daily Mail, The Wall Street Journal Europe and all 11 CanWest publications.
Newspapers in PressDisplay are presented in their original layout, and the iPhone's unique multi-touch gestures and auto-rotate feature let users easily zoom in to view any article or photo in stunning clarity. PressDisplay users have access to online digital replicas of more than 500 newspapers and magazines -- from 70 countries, in 37 languages -- making it an indispensable news source for anyone who wants multiple perspectives on the news.
"The iPhone is the perfect mobile platform for PressDisplay.com because its rich user interface complements the advanced navigation and browsing capabilities of PressDisplay," said Alexander Kroogman, CEO of NewspaperDirect. "But what is really exciting is that, for the first time, we can mobile-enable all of our dozens of SmartEdition publications, giving their subscribers anywhere/anytime access to their digital editions."
Unlike news aggregation sites, which only provide a sample of free news stories from a variety of news sources, Mobile PressDisplay lets mobile users read hundreds of premium newspapers in their entirety. Mobile PressDisplay has been optimized for the iPhone, making it extremely easy to browse and read newspapers with section listings, zoom and pan, page flipping, auto-jumps that link articles spanning different pages, text or graphics views, bookmarks, search, monitors and audio support.
About NewspaperDirect Inc.
Founded in 1999 and based in Vancouver, BC, Canada, NewspaperDirect Inc. (http://www.newspaperdirect.com) is the world leader in multi-channel newspaper and magazine content distribution and monetization. NewspaperDirect offers hundreds of newspaper and magazine titles through a global network of more than 1,200 print locations in more than 90 countries, delivering them to hotels, libraries, cruise ships, corporate offices, retail outlets, home subscribers and Web browsers everywhere.
PressDisplay.com from NewspaperDirect is the world's largest online newspaper kiosk, providing instant access to hundreds of newspapers and magazines from around the world. Users can view publications online, download titles for offline viewing, translate articles on the fly in up to 12 different languages, listen to publications on their computers or mobile phones and enjoy reading hundreds of publications which have been optimized for smart mobile and BlackBerry devices. NewspaperDirect has also adapted PressDisplay.com for the library, corporate, airline, hotel and OEM markets.
NewspaperDirect's SmartEdition ePaper solution, powered by PressDisplay technology, fits every publisher's needs with zero investment and zero operational cost. With SmartEdition, a publisher's subscribers benefit from anywhere/anytime access to current and back issues of their publications, while enjoying premium digital features such as voice, translation, sharing, blogging and advanced searching. NewspaperDirect provides full hosting, payment acceptance, customer service management and full technical support.
Tim Cox, +1-650-369-7784 (for NewspaperDirect)
iPhone is a registered trademark of Apple Inc.
###