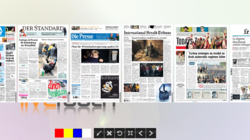 This is an industry first and showcases the potential of adapting newspapers for use in new channels.
Las Vegas (Vocus/PRWEB) April 07, 2011
(NAB SHOW-booth SL7723): LiveTouch Broadcast Solutions, a provider of interactive touch screens for on-air use, has selected PressDisplay.com from NewspaperDirect to provide more than 1,800 full-content newspapers from 94 countries in its turnkey solution for broadcasters. The new LiveTouch Newspaper application brings the most up-to-date, complete newspaper content from around the world in its original format right into the broadcast studio, enabling broadcasters to introduce new forms of news programming into their schedules.
The enormous breadth and depth of news content provided by PressDisplay.com enables on-air presenters to interactively review and comment on headlines and news stories and photography, giving viewers insight into the best journalism from leading newspapers from around the corner or around the world, the moment they are published (and often before they hit newsstands in their local markets).
The LiveTouch Newspaper system is being previewed to broadcasters at this year's NAB Show on Booth SL7723 in the Las Vegas Convention Center.
**LiveTouch Newspaper enables new forms of programming**
NewspaperDirect worked closely with LiveTouch to integrate PressDisplay.com into the on-air system, resulting in a high-fidelity experience that is navigated using the LiveTouch multi-touch display. Digital newspapers are presented in their original newsstand format and rendered in high resolution, enabling presenters to scroll through a selection of local newspapers or feature top newspapers from around the world. Multi-touch gestures let the presenter zoom in and highlight any news story, quickly skim through an entire edition, or build their own commentary around high-resolution, color photos from leading photojournalists.
"News is one of the most profitable programming elements for broadcasters, so placing the best news from across the nation or around the world at the fingertips of on-air presenters offers a new form of programming that can boost viewer engagement," said Jason Maire, director of marketing for LiveTouch Broadcast Solutions. "NewspaperDirect, known for leading innovation in the publishing industry, has proven to be the perfect partner for us. Their technical team worked closely with us to adapt their flexible news feed to our system, resulting in a smooth and immersive experience for our broadcast customers."
"This is an industry first and showcases the potential of adapting newspapers for use in new channels," said Alexander Kroogman, CEO of NewspaperDirect. "Our PressDisplay.com technology provides an open platform that can be tailored for use in every conceivable manner, enabling publishers to reach new audiences while ensuring the security of their content."
About LiveTouch Broadcast Solutions
Livetouch offers turnkey solutions of fully integrated hardware and software for broadcasters. LiveTouch's goal is to enable the broadcasters to become more efficient, flexible and profitable in studio environment by providing the touch screen platform, configuration and software applications that best meet their needs. LiveTouch's touch-screen hardware uses the most advanced multi-touch sensing display on the market, able to sense up to 32 points of simultaneous touches with unprecedented accuracy and precision. Its power engines are also the most powerful Windows OS-based hardware, which has uniquely designed and developed software for the client's applications. Through its international partners, Livetouch brings the new emerging trend of touch screen to broadcast presenters from all over the world. Whether it's for news, sports, maps, traffic, elections, newspaper review, business, or any interactive TV show that you would like to boost, it is empowered in a cost-effective, faster, and customizable approach.
About NewspaperDirect Inc.
NewspaperDirect delivers the world's newspapers and magazines to millions of readers the way they want to receive them — in print, online, or on their smartphone, iOS or Android tablet or eReader — wherever they live, travel, work or play. With the most innovative digital publishing technology in the industry and the only zero operational-cost business model, NewspaperDirect is recognized as the world leader in multichannel content distribution and monetization, and is the chosen partner of more than 1,800 publishers from 94 countries. Optimized for PCs, Macs, smartphones, the iPad, iPhone, iPod Touch, BlackBerry, Samsung GALAXY Tab, ASUS eeePad and numerous popular eReaders, NewspaperDirect's flagship products (PressDisplay.com and its companion application PressReader) transcend the limited web, RSS or text-based formats of other online publications, delivering full-content digital replicas that are compliant with international audit bureau requirements. PressDisplay.com also enhances the reading experience with powerful digital features such as cross-title search, monitoring, article ranking, bookmarks, instant translation, on-demand audio and social features that allow readers to comment on content, share articles, and interact with other readers.
# # #