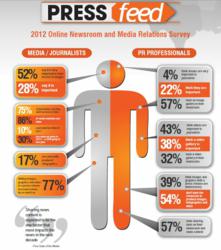 The PRESSfeed 2012 survey results highlight the fact that many PR practitioners are missing opportunities for media coverage because they are not supplying features that the media need and want.
Pasadena CA (PRWEB) August 09, 2012
The PRESSfeed 2012 Online Newsroom and Digital Media Relations Survey results highlight the fact that many PR practitioners are missing opportunities for media coverage because they are not supplying features that the media need and want. Technology has changed the way the media finds, gathers and reports the news but corporate newsroom have not kept pace with these changes.
The questions in the survey were based on information journalists had provided in other studies where they identified features and tools most interesting and useful to the media today. The purpose of the survey was to establish how well PR practitioners are responding to the rapidly changing media landscape and the needs of digital journalists and bloggers.
The study showed some major disparities between what journalists and bloggers want and what corporate newsrooms provide. Two results were most significant: the gap around the need for visual material with news content and the lack of optimizing news content for search engines.
Adding Visuals to News Content
86% of media websites use images and video with a story. 80% of journalists and bloggers regard images with news as very important and say it significantly improves the chance of them using that content in a story. They expect to find images readily available in a company newsroom.
More than a year ago a PR Newswire study clearly showed that adding visual elements to a release can increase views by as much as 77%. Yet when asked what features journalists and bloggers think are important only 4% of PR people said they thought images were very important, 22% said they were important and just over half (56%) of the respondents routinely add images to their press releases.
When asked why they don't add images 39% said they thought it was not necessary, 7% said they don't know how and 54% said they do not have the resources to produce visual content
Video is another area of disparity. Media websites, and as a result journalists, are eager for video content. People want to see the news, not just read about it. Local newspapers are hiring video journalists Southern California Public Radio is leveraging the power of Pinterest to spread their video coverage of the news.
Only 10% of media websites used externally produced video in 2011 and that figure has jumped to 30% this year. Only 43% of survey respondents said they think video is important to journalists and just 38% think they should have a video gallery in their newsroom. Two thirds of Fortune 100 companies have a video gallery, but only 28% of the Fortune 500 has one and a paltry 8% of INC 500 companies offer video in their newsrooms.
76% of media website editors and journalists say they prefer to receive a video via embed code. Only 28% of the PR people surveyed said they offer embed codes. A study of the online newsroom of 300 companies showed that on average less than 10% offer embed codes with their video.
"Technology has radically changed the media landscape. Journalists and bloggers are looking for interesting content, but you have to provide it in the format they want and give them the tools to use it with just a couple of clicks," said Sally Falkow, (APR) President of PRESSfeed, who prepared the report.
Optimizing News Content for Search
Pew Research stated in their 2011 State of the News Media Report that searching for news content is the one factor that most impacted the news industry in the last decade. Reporters use search engines to find sources and stories ideas. 76% of internet users get their news online. comScore reports that In February 2012, U.S. searchers conducted 371 million news-related searches on search engines and noted that the search behavior differs when on a web search versus a news search. Yet a study of 500 press releases posted on four major wire services showed that only 14% of the releases were optimized for search.
Download the full report to see all the questions and results. The report also contains the PRESSfeed recommendations for how to take advantage of the PR opportunities presented by these gaps.
http://www.press-feed.com/2012survey >>
Webinar:
PRESSfeed is hosting a free webinar on August 15, 2012 at 10 am Pacific 1 pm Eastern to discuss the implications of these results Sally Falkow, President of PRESSfeed and Jim Brady, former Editor-in-Chief for the Washington Post and currently Editor-in-Chief of Digital First Media, will explore the gaps and opportunities in digital media relations.
Register here for the webinar: https://www1.gotomeeting.com/register/567807225
Download the infographic in a PDF
http;//http://www.press-feed.com/2012survey/infographic >>
About PRESSfeed:
The PRESSfeed hosted online newsroom helps companies and organizations stay ahead in the rapidly moving digital landscape with social media integration. The newsroom has the elements journalists, bloggers and the public expect in a corporate news hub today.
PRESSfeed offers training, support and tools, such as the News Optimization Toolbar with full instructions on how to optimize news releases, images and video for search. Clients have access to monthly training webinars that keep them informed about the latest technology, trends and tools.