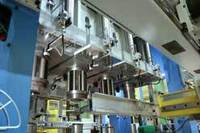 Working with Geerts, we were able to develop a fully-automated machine to exceed their exacting expectations
Tranemo, Sweden (PRWEB) April 6, 2009
Automation, Presses & Tooling (AP&T), a Swedish designer of high-tech machinery used by sheet metal forming industries, just supplied Geerts Metal Goods with a brand new custom-designed press. With the new machine, Geerts can accomplish with one machine what used to require four, shortening production time from a few weeks to a few days.
"Working with Geerts, we were able to develop a fully-automated machine to exceed their exacting expectations," said Per Josefsson, Sales and Marketing Director, for AP&T. "With this new press, they are able to get products to clients faster than ever before."
Geerts creates precisely formed machine parts crafted out of sheet metal through a process called deep drawing In a field that demands strict adherence to exact specifications, Geerts uses their new AP&T press to supply just what their customers require.
In simple terms, AP&T designed a hydraulic press coupled with a press frame, which in this case contains four press slides with individual controls for press force and strokes. In practice, it functions as four tightly spaced hydraulic presses - perfect for deep drawing when the forming process requires several steps. The finished pieces are moved between the stations and the tools using AP&T's SpeedFeeder press feeder. In Geerts's new MSP line, one SpeedFeeder is positioned at the first station and two additional SpeedFeeders handle the transfers among the other stations.
Processes that used to require weeks, now need only days to complete. Because Geerts is based in Europe, they can provide parts to other European companies fast. Their brand new press enables them to greatly extend that competitive advantage. In addition, using the new automated press line, Geerts avoids the problem of finding competent technicians. A process that used to require four operators now requires only one.
Geerts has a long history of satisfaction with the high quality presses supplied by APT. The current hydraulic press is the fourth AP&T has supplied since the 1990's. "The machines are reliable and have high quality. But for us, AP&T is more than a machine supplier. We have a very good relationship and regularly exchange experiences related to forming techniques," says Peter Geerts.
About Automation, Presses and Tooling (AP&T)
Based in Tranemo, Sweden, AP&T provides presses and tools to the metal forming industries making automotives, domestic appliances and indoor climate goods. As experts in metal forming technology and in process automation, they work with clients to provide customized solutions. Through the One Responsible Partner® program, they assume full responsibility for a production line, designing the right tools for any job.
Contact
Per Josefsson
Sales and Marketing Director
Automation, Press and Tooling, AP&T AB
Box 208, Industrigatan 5
SE-514 24 Tranemo
Sweden
Phone +46 325 66 18 00
Fax +46 325 66 18 88
###