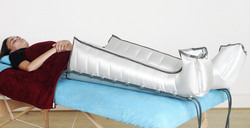 I love the buzz that I get from the cream when the pressotherapy garments are removed and I can feel my legs tingling. I feel that I'm about to fly!
(PRWEB) July 2, 2010
LipoTherapeia, the London-based cellulite specialist clinic, now offers a new synergistic treatment for cellulite, water retention and poor circulation. A combination of pressotherapy lymphatic drainage and a multi-ingredient anti-cellulite wrap, this treatment is said to be more effective than the sum of it's constituent parts, providing welcome relief from cellulite and water retention during the hot summer months, and poor circulation in the winter.
Pressotherapy treatments are generally effective in tackling water retention and cellulite, but results largely depend on the equipment used. Body wraps also help reduce those conditions but results also largely depend on the active ingredients used in the wrap and the absorption of those ingredients by the skin and the cells. However, the combination of pressotherapy together with a body wrap has been found to offer synergistic results, according to cellulite expert Georgios Tzenichristos.
"We have found that pressotherapy significantly enhances the absorption and efficiency of the cellulite wrap's active ingredients. I suggest that this is partly due to the increased and intermittent pressure applied on the skin, and partly due to the removal of excess water and toxins from the tissues, which in return allows the cells to absorb active ingredients more readily", Georgios explains. "Of course, this is in addition to the benefits of the lymphatic massage itself".
Georgios, a cellulite therapist with more than 10 years experience in cellulite and water retention, pays particular attention to the equipment and active ingredients used for the treatment. "Poorly designed pressotherapy systems can be up to 3 times less effective than the better ones", Georgios claims. "Similarly, body wrap active ingredient concentration can vary from anything between 1% to 20%, which means that cheaper, less concentrated body wrap formulations can be 20 times less effective than the more concentrated ones."
"Naturally, we use a patented pressotherapy machine which is probably the best in the world", Georgios enthuses before he adds that "the Lipo Actives, our anti-cellulite cream/gel used for the body wrap, contains no less than 20% active ingredients - probably the most concentrated in the world too".
Pressotherapy is very popular with continental women, especially with French, Italians and Russians, who are also fanatic about Georgios' other offering, his ultra-strong Lipo Active Massage treatment, usually preferring to combine the two for a comprehensive 90-minute session.
"It is so hard to find proper pressotherapy treatments in London" Giulia, a 35-year-old Italian expat says. "In Italy, and also France where I lived for a few years, pressotherapy is readily available in many salons. It took me several months to find this treatment and I'm glad I can combine it with a strong cellulite massage too."
In contrast, Natalia, a 23-year-old Russian student is more enthusiastic about the Lipo Actives, the formulation used for the treatment. "I love the buzz that I get from the cream when the pressotherapy garments are removed and I can feel my legs tingling. I feel that I'm about to fly!"
In addition to chronic and occasional water retention and cellulite, Lipo Active Pressotherapy is also used:

After liposuction, smart-lipo (laser lipo) and vaser (ultrasound lipo) to accelerate recovery and reduce swelling.
Pre-flight and post-flight treatments are popular with women that travel frequently and help prevent and alleviate swelling and poor circulation.
The treatment is also safe during pregnancy and is used all the way to the ninth month, helping relieve heavy legs, swollen feet and cellulite that occur during pregnancy.
After labour Lipo Active Pressotherapy helps remove excess water and cellulite, especially in combination with the Lipo Active Massage.
However, the benefits of this treatment are not limited to circulation problems. Georgios himself uses the "power option" of the pressotherapy equipment to apply deep tissue massage to his own and his clients' tired and aching calf muscles.
"My job requires me to stand all day providing treatments. This, in combination with my low foot arches, leads to tension and fatigue in my calf muscles, so I regularly use the treatment myself at the end of each day. It relaxes my legs (and my mind) and allows me to enjoy my evenings without tension and pain in my legs".
ABOUT LIPOTHERAPEIA
Lipo Active Pressotherapy treatments are available at LipoTherapeia, a South Kensington (London, UK) clinic that specialises in cellulite, lymphatic drainage, water retention and post-cosmetic surgery recovery treatments.
# # #