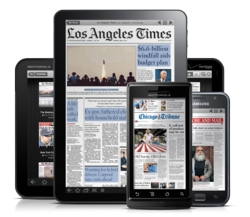 We are committed to continually innovating to exceed the expectations of our readers and publishing partners. PressReader 3.0 with SmartFlow technology is just one step in our journey to an unparalleled reading experience for newspapers and magazines.
Vancouver, BC (PRWEB) February 14, 2012
PressReader, the app that delivers the world's most authentic newspaper-reading experience, has been voted by the readers of 148Apps as the "2011 Best App Ever" in the newspaper category. PressReader, which delivers more than 2,000 full-content newspapers from 93 countries to the most popular smartphones and tablets, was selected as the best newspaper app for Apple iOS, beating out The Daily, Flipboard, Guardian iPad Edition, NY Times, USA TODAY, and The Wall Street Journal Mobile.
"We are committed to continually innovating to exceed the expectations of our readers and publishing partners," said Alex Kroogman, CEO of NewspaperDirect. "PressReader 3.0 with SmartFlow technology is just one step in our journey to an unparalleled reading experience for newspapers and magazines. We are delighted with the award because it tells us we're giving readers what they want — the best news-reading experience on the iPhone and iPad. I am looking forward to offering that same experience on every platform we support in the very near future."
Created by the editors of 148Apps to celebrate the best mobile apps and games available, the goal of "The Best App Ever" Awards is to gather together the favorite apps of real users. For each category, the winners are voted for in both iOS (iPhone and iPad combined) and Android divisions.
Industry-leading features make PressReader 3.0 the best choice for newspaper lovers
PressReader 3.0 offers the widest choice of newspapers from around the world. The latest Apple iOS version of PressReader harnesses the power of iOS 5 on the iPad 2 to deliver the smoothest and most natural browsing and reading experience ever. Features include:

SmartFlow, an exclusive feature which complements the traditional replica newspaper and magazine presentation, and lets readers browse and discover articles in a continuous horizontal stream of stories that flow across the iPad, each optimally presented on the screen
SmartZoom that automatically positions the zoomed-in view to the beginning of an article
Contextual integration between the Replica/Page and SmartFlow views
Press and hold (i.e. "long press") activation of contextually driven actions such as printing, sharing via email, or on Facebook and Twitter
NewspaperRadio for on-demand audio of articles
Two-finger-pinch to adjust font and image sizes
Choice of different font types
Cross-title keyword search
Authorization of PressReader with a PressDisplay.com subscription.
Watch this video to see the many innovative enhancements included in PressReader 3.0.
Available as a free download
PressReader for iPad and iPhone is available as a free download in the Apple iTunes App Store. Download it today and, as new user, receive 7 free newspaper issues from an enormous selection, which includes prestigious publications such as The Washington Post, Chicago Tribune, The Philadelphia Inquirer, National Post, The Globe and Mail, The Guardian, Daily Mail, International Herald Tribune, The Irish Times, ABC, Le Monde, The Australian, and The New Zealand Herald — to name just a few of the top titles currently available.
How to sign up
Most individual newspapers and magazines available through PressReader can be purchased for $0.99 per issue, or downloaded in conjunction with a paid subscription on PressDisplay.com, which offers virtually unlimited access to the world's press for just $29.95/month (USD). For full details on subscription pricing, visit our subscription page.
About PressReader
PressReader is the companion offline application for the world's largest online newspaper and magazine newsstand, PressDisplay.com. PressReader delivers the most authentic newspaper-reading experience on PCs, Macs, smartphones, Apple iOS devices (iPad, iPhone and iPod Touch), numerous Google Android-based handhelds, BlackBerry devices (Playbook, Bold, Curve and Storm) and Windows devices (Windows Phone and Windows 7 Slate PC). Today, millions of tablets come pre-installed with PressReader from a growing list of major manufacturers including ASUS, HTC, Kobo, Microsoft, Samsung and soon, Playbook. With PressReader, you can hold a digital edition of your favourite publication in your hands and read it from cover to cover, just the way the title was printed — with no compromises in quality, fidelity or content. Whenever PressReader, or its online service, PressDisplay.com, supports a new device, it is also made available to NewspaperDirect's publishing partners for their own SmartEdition ePapers based on PressReader technology.
About 148Apps
148Apps launched shortly after the iTunes App Store launched in July of 2008. From the start our purpose has been to provide you insight into the very best in iOS applications through our numerous reviews and latest news sections. Our goal is to sort through the best of the best and provide you with the information you need to choose — so you don't have to spend your days in front of an iPhone just to find the perfect app for you. In addition to the reviews and news, we keep track of what's selling, what's new and what prices are dropping in the iTunes App Store. We also have growing communities on Twitter, Facebook. http://www.148apps.com.
About NewspaperDirect Inc.
NewspaperDirect delivers the world's newspapers and magazines to millions of readers the way they want to receive them — in print, online, or on their mobile device, tablet or eReader — wherever they live, travel, work or play. With the most innovative digital publishing technology in the industry and the only zero operational-cost business model, NewspaperDirect is recognized as the world leader in multichannel content distribution and monetization, and is the chosen partner of more than 2,000 publishers from 95 countries. Follow us on Facebook.com/pressreader, Twitter @pressdisplay, and YouTube.com/user/pressdisplay.
PressDisplay.com and SmartEdition are trademarks or registered trademarks of NewspaperDirect Inc. All other trademarks and registered trademarks belong to their respective owners.
# # #