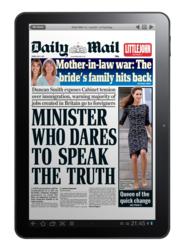 PressReader is the ultimate digital newsstand for readers who want the widest possible selection of full-content newspapers on their favorite Android device.
Vancouver, Canada (PRWEB) July 05, 2011
NewspaperDirect Inc., the world leader in multichannel newspaper and magazine content distribution, has just released an enhanced version of PressReader for Android that takes advantage of the larger screen sizes and hardware acceleration offered by the Google Android Honeycomb platform. The new PressReader apps gives Android phone and tablet users a convenient and immersive read of the more than 1,800 full-content newspapers and magazines from 95 countries and in 48 languages that are available on PressDisplay.com.
PressReader for Android Honeycomb is now available in the Android Market and is compatible with 3.0/3.1 Honeycomb-based tablets, such as the Asus Eee Pad Transformer, the HTC Flyer, the Motorola Xoom, and the Samsung Galaxy Tab 8.9 and 10.1. A Gingerbread-specific version of PressReader is also available for Android devices running Android 2.2/2.3. Pre-installations of the app on a number of Honeycomb devices are planned for the near future.
Key features of PressReader for Android include:

Support for on-board hardware acceleration on Honeycomb-based devices
A more immersive reading interface, customized for larger screen sizes
Automatic daily download of user-selected titles
High-performance navigation using thumbnails or tables of contents
Intuitive reading experience: flip, pan, rotate and zoom articles and photos
Support for full-graphic page views or easy-to-read text views of articles
On-demand narration of news stories
Sharing of articles by email or by posting on social network sites
"PressReader is the ultimate digital newsstand for readers who want the widest possible selection of full-content newspapers on their favorite Android device," said Alex Kroogman, CEO of NewspaperDirect. "For publishers, PressReader for Android enables them to instantly expand their distribution to the fastest growing audience of mobile and tablet users, without incurring any operational or development costs."
PressReader for Android is available as a free download from the Android Market. New customers receive seven trial issues for free. Most newspapers and magazines can be purchased for $0.99 per issue through PressDisplay.com or downloaded in conjunction with a paid PressDisplay.com subscription. For subscription pricing, visit the PressDisplay subscription page.
About PressReader
PressReader is the companion offline application for the world's largest online newspaper and magazine kiosk, PressDisplay.com. PressReader delivers the most authentic newspaper-reading experience on PCs, Macs, smartphones, Apple iOS devices (iPhone, iPod Touch, and iPad), BlackBerry smartphones, and the latest Android-based handhelds and tablets. Follow PressDisplay and PressReader on facebook.com/PressReader, Twitter @PressDisplay, and youtube.com/user/PressDisplay.
About NewspaperDirect Inc.
NewspaperDirect delivers the world's newspapers and magazines to millions of readers the way they want to receive them — in print, online, or on their mobile device, tablet or eReader — wherever they live, travel, work or play. With the most innovative digital publishing technology in the industry and the only zero operational-cost business model, NewspaperDirect is recognized as the world leader in multi-channel content distribution and monetization, and is the chosen partner of more than 1,800 publishers from 95 countries. http://www.newspaperdirect.com.
Media contact:
Tim Cox, ZingPR, tim(at)zingpr.com, +1-650-369-7784
###