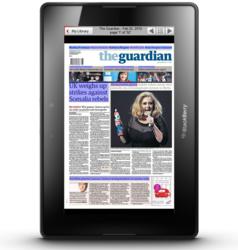 Having PressReader preloaded on the BlackBerry PlayBook is great for PlayBook users as well as publishers, who can now broaden their reach and ensure the best newspaper-reading experience for their subscribers at no operational cost to the them.
Barcelona, Spain (PRWEB) February 27, 2012
(Mobile World Congress): NewspaperDirect announced that the company's PressReader application for the BlackBerry® PlayBook™ is included as part of the new BlackBerry PlayBook OS 2.0 update and will be preloaded on new tablets that ship with the latest operating system.
With instant access to more than 2,000 digital newspapers and magazines from 95 countries and in 54 languages, even when offline, PressReader gives PlayBook users the best premium digital news content experience, right out of the box.
PressReader takes advantage of the BlackBerry PlayBook tablet's high-resolution display to present newspapers and magazines as enhanced digital replicas of printed editions that roll off the presses very day. PlayBook users can download prestigious publications such as The Washington Post, Chicago Tribune, The Philadelphia Inquirer, National Post, The Globe and Mail, The Guardian, Daily Mail, International Herald Tribune, The Irish Times, Irish Independent, ABC, Le Monde, Business Standard, India Today, Money Today, The Australian, Curl and The New Zealand Herald — to name just a few of the top titles currently available.
"At NewspaperDirect, our mission is to open new channels of distribution and revenue for our publishing partners, so they can securely offer their premium news content to loyal and new readers on their favorite tablets and smartphones," said Alex Kroogman, CEO of NewspaperDirect. "Having PressReader preloaded on the BlackBerry PlayBook is great for PlayBook users as well as publishers, who can now broaden their reach and ensure the best newspaper-reading experience for their subscribers at no operational cost to the them."
Highlights of the PressReader replica newspaper app for BlackBerry PlayBook include:

Flip pages in portrait or landscape mode as if reading a paper publication
Pan/zoom articles and images, and view them in high resolution
Easily navigate publications using page thumbnails or tables of contents
Read full articles in graphics mode or text view
On-demand audio of articles
Print articles, or share them via email, blog, Facebook and Twitter
Cross-title keyword search
Automated daily download of favorite titles
Authorization of PressReader with a PressDisplay.com subscription.
"The BlackBerry PlayBook is designed to make consuming news and media content a truly pleasurable experience," said Martyn Mallick, vice president, global alliances and business development, Research In Motion. "We chose to preload PressReader, the leading news app on the market today, with the BlackBerry PlayBook OS 2.0 update to give customers the largest selection of the world's news publications in an engaging format, optimized for the PlayBook."
Meet NewspaperDirect at the 2012 Mobile World Congress
Igor Smirnoff, vice president of digital for NewspaperDirect, is showcasing PressReader for BlackBerry PlayBook at this year's Mobile World Congress in Barcelona. Visit the BlackBerry booth (7B42 Hall 7) to meet Igor and attend his presentation, "Beyond the Printed Newspaper" at the BlackBerry Showcase Theatre on Tuesday, February 28, 2012 at 16:25. Email Tim Cox (tim(at)zingpr(dot)com) to arrange a private demonstration.
How to sign up
Most individual newspapers and magazines available through PressReader can be purchased for $0.99 USD per issue, or downloaded in conjunction with a paid subscription on PressDisplay.com, which offers virtually unlimited access to the world's press for just $29.95 USD/month. For full details on subscription pricing, visit our subscription page.
About PressReader
PressReader is the companion offline application for the world's largest online newspaper and magazine newsstand, PressDisplay.com. PressReader delivers the most authentic newspaper-reading experience on PCs, Macs, smartphones, Apple iOS devices (iPad, iPhone and iPod Touch), numerous Google Android-based handhelds, BlackBerry devices (PlayBook, Bold, Curve and Storm), and Windows devices (Windows Phone and Windows 7 Slate PC). Today, millions of tablets come pre-installed with PressReader from a growing list of major manufacturers including ASUS, HTC, Kobo, Microsoft, RIM, and Samsung. With PressReader, you can hold a digital edition of your favourite publication in your hands and read it from cover to cover, just the way the title was printed — with no compromises in quality, fidelity or content. Whenever PressReader, or its online service, PressDisplay.com, supports a new device, it is also made available to NewspaperDirect's publishing partners for their own SmartEdition ePapers based on PressReader technology.
About NewspaperDirect Inc.
NewspaperDirect delivers the world's newspapers and magazines to millions of readers the way they want to receive them — in print, online, or on their mobile device, tablet or eReader — wherever they live, travel, work or play. With the most innovative digital publishing technology in the industry and the only zero operational-cost business model, NewspaperDirect is recognized as the world leader in multichannel content distribution and monetization, and is the chosen partner of more than 2,000 publishers from 95 countries. Follow us on Facebook.com/pressreader, Twitter @pressdisplay, and YouTube.com/user/pressdisplay.
PressDisplay.com and SmartEdition are trademarks or registered trademarks of NewspaperDirect Inc. The BlackBerry and RIM families of related marks, images and symbols are the exclusive properties and trademarks of Research In Motion Limited. RIM assumes no obligations or liability and makes no representation, warranty, endorsement or guarantee in relation to any aspect of any third party products or services. All other trademarks and registered trademarks belong to their respective owners.
###