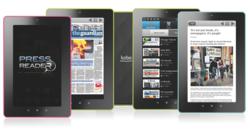 With our new Kobo Vox eReader, we aimed to give our users the widest possible array of digital content, and NewspaperDirect was the obvious choice for the world's best and largest selection of digital newspapers.
Vancouver, Canada (PRWEB) October 27, 2011
Kobo, a global leader in eReading with more than five million users worldwide, has partnered with NewspaperDirect to provide premium news content on the new Kobo Vox eReader. The new device, which consumers can order online today and starts shipping this week, is preloaded with NewspaperDirect's PressReader application, giving Kobo Vox owners access to more than 2,000 news publications from 95 countries and in 51 languages — all for immediate download. And, to give Kobo Vox owners a taste of what it's like to browse newspapers from around the world, users can download their choice of 7 issues from PressReader's extensive library of publications for free.
With PressReader, Kobo Vox users can interact with digital editions of their favourite publications and read them from cover to cover, just as they would in print – including premium publications such as Los Angeles Times, Chicago Tribune, The Philadelphia Inquirer, Daily Mail, International Herald Tribune, Irish Times, La Tribune, Le Monde, The Globe and Mail, The Australian, The Guardian and The Washington Post, to name just a few.
Features include:

Presentation of complete digital replicas of newspapers, often before the print version is on the newsstands
Browsing of entire publications in portrait or landscape mode with one finger (including zoom, pan and scroll)
A rich graphics page view and an easy-to-read text view for individual articles
Fast navigation from article to article or to a favorite section using the Table of Contents
Cross-title search of keywords and phrases
Automatic download of favorite publications for offline reading
Sharing of articles through email, Facebook and Twitter
On-demand narration of news stories
Integration with an existing PressDisplay.com subscription
"Kobo offers the World's Largest Bookstore with a selection of over 2.2 million books including today's newest releases, New York Times® bestsellers and over 1 million free titles. With our new Kobo Vox eReader, we aimed to give our users the widest possible array of digital content, and NewspaperDirect was the obvious choice for the world's best and largest selection of digital newspapers," said Michael Tamblyn, EVP of content, sales and merchandising at Kobo. "We are confident that our customers are going to love reading their favorite newspapers on PressReader and sharing articles with their friends through email and social networks."
Unlike other eReader newsstands, which offer a limited number of titles, each accessed through a different app with separate subscription plans, PressReader on the Kobo Vox conveniently provides over 2,000 digital newspapers from 95 countries in just one app. And for consumers who enjoy reading more than one newspaper a day, the single $29.95 monthly subscription plan, which offers unlimited access to the entire PressReader collection, is more economical than buying two individual subscriptions from other newsstands.
"NewspaperDirect is committed to delivering the widest selection of premium news content to readers on their screen of choice," said Alex Kroogman, CEO of NewspaperDirect. "PressReader preloaded on the Kobo Vox not only opens the world's press to users right out of the box, it provides a visually rich and interactive reading experience that is second to none."
Pricing
Most individual newspapers and magazines available through PressReader can be purchased for $0.99 per issue, or downloaded in conjunction with a paid subscription on PressDisplay.com. For full details on subscription pricing, visit our subscription page.
Media resources
NewspaperDirect website; PressDisplay website; PressReader website; NewspaperDirect corporate video; and blog. Visit PressDisplay/PressReader on Facebook.com/pressdisplay, Twitter (@pressdisplay), and YouTube.com/user/pressdisplay.
About the Kobo Vox eReader
Kobo Vox™ is an eReader and more! Kobo adds stunning color books to it library of over 2.2 million titles. Experience color books for all ages including interactive Read Along children's books on the brilliant 7" FFS+ multi-touch, multi-media screen. Enter the new world of social reading with Kobo's expanded Reading Life™ experience, now with Kobo Pulse™. Share ideas on passages with other readers within the pages of a book and share your Reading Life™ with friends on Facebook® and Twitter®. Designed for readers, Kobo Vox™ comes pre-loaded with the best apps for shopping and reading newspapers and magazines. Built for connected life, the Kobo Vox offers Wi Fi, Web browsing, Facebook®, email, music, games, plus over 15,000 apps for Android™!
About Kobo Inc.
Kobo is a global eReading service with more than 2.5 million eBooks, magazines and newspapers – one of the largest eReading catalogues in the world. Kobo believes consumers should have the freedom to read any book on any device and has attracted millions of readers from over 100 countries across the globe. Kobo has top ranked eReading applications for iPad, iPhone, BlackBerry, Android, Windows and MacOS, and is the eReading application of choice for leading tablet OEMs. The Kobo Wireless eReader and the new Kobo eReader Touch Edition are available at leading retailers, including Indigo, Walmart, Best Buy, Target, and WH Smith. Kobo's innovative Reading Life is an industry-first comprehensive social eReading experience – Kobo users can earn awards simply for time spent reading and encouraging others. Kobo is backed by majority shareholder Indigo Books & Music Inc, Cheung Kong Holdings, and institutional investors.
About PressReader
PressReader is the companion offline application for the world's largest online newspaper and magazine kiosk, PressDisplay.com. PressReader delivers the most authentic newspaper-reading experience on PCs, Macs, smartphones, BlackBerry devices (Bold™, Curve™, Storm™ and PlayBook™), Apple iOS devices (iPhone, iPod Touch, and iPad), and the latest Google Android-based handhelds and tablets. With PressReader, you can hold a digital edition of your favourite publication in your hands and read it from cover to cover, just the way the title was printed — with no compromises in quality, fidelity or content.
Whenever PressReader, or its online service, PressDisplay.com, supports a new device, it is also made available to NewspaperDirect's publishing partners for their own SmartEdition ePapers. Therefore, as of today, publishers of the hundreds of private-label SmartEdition newspapers powered by PressDisplay technology can now offer their subscribers their ePaper on the Kobo Vox at no operational cost.
About NewspaperDirect Inc.
NewspaperDirect delivers the world's newspapers and magazines to millions of readers the way they want to receive them — in print, online, or on their mobile device, tablet or eReader — wherever they live, travel, work or play. With the most innovative digital publishing technology in the industry and the only zero operational-cost business model, NewspaperDirect is recognized as the world leader in multi-channel content distribution and monetization, and is the chosen partner of more than 2,000 publishers from 95 countries.
# # #