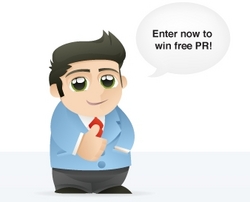 Often, small to medium-sized businesses don't have the budget to retain a public relations firm full-time. That's where MyPRGuide comes in
Knoxville, TN (Vocus) June 9, 2010
MyPRGuide, a press release writing and distribution service, came out of beta today with new pricing starting at just $99. The web-based service helps organizations of all sizes gain local and national media coverage in a fast, easy and cost-effective manner.
To promote its official launch, MyPRGuide is currently giving away two free press releases each week through the month of June. Every Friday June 4 through June 25, the company will announce two winners - one business and one non-profit. To enter, visit http://www.myprguide.com/promo.html.
With press release packages starting at $99, MyPRGuide has solutions to fit any budget. All pricing plans include writing, editing and social media distribution via an exclusive newsfeed and social networks such as Twitter, Facebook and Digg. Optional features include wire distribution and customized local and national media targeting.
"Often, small to medium-sized businesses don't have the budget to retain a public relations firm full-time. That's where MyPRGuide comes in," said Nicole VanScoten, a public relations specialist who is leading the efforts at MyPRGuide. "We built MyPRGuide on the notion that every organization should be able to use press releases to their advantage, in the easiest and most cost-effective way possible."
While the ROI on public relations initiatives is generally high, many organizations overlook the opportunity because they do not have the expertise in-house to successfully implement a public relations campaign. MyPRGuide is a low-cost alternative aimed at building brand awareness, driving website visits and creating more foot traffic in-store.
All releases from MyPRGuide are written and edited by experienced public relations professionals and are turned around within five business days. The company guarantees that each customer will be happy with his/her press release before it's distributed.
For more information and to get started, visit http://www.myprguide.com.
About MyPRGuide
MyPRGuide is an easy, cost-effective press release writing and distribution service. The web-based service allows organizations of all sizes to stand out from the competition by reaching top news outlets and bloggers. Starting at just $99, MyPRGuide has options to suit any budget! Visit http://www.myprguide.com for more information.
###