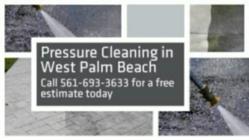 New West Palm Beach Pressure Washing Services Announced
West Palm Beach, Florida (PRWEB) June 01, 2013
A new company has been launched in South Florida, offering pressure cleaning and power washing services. The company goes by the name of Pressure Cleaning West Palm Beach and is centered in the West Palm Beach area but does service other areas of South Florida. They provide free estimates with no obligation, allowing their customers to make a decision that fits their budget and that involves no pressure or commitment. The new company is ready to help all homeowners and businesses fight the mold and mildew that is common to the South Florida area. They can make a house or building look like new in just a matter of hours.
A pressure washer is a high pressure mechanical sprayer that can be used to remove loose paint, mold, grime, dust, mud, and dirt from surfaces and objects such as buildings, vehicles, concrete surfaces, swimming pools, driveways, and other areas. The pressure cleaner uses a motor and a steady flow of water to pressurize the flow and use it to clean surfaces of years of dirt and grime in a matter of seconds.
They are able to pressure wash houses, apartments, condos, driveways, swimming pools, commercial and retail stores, malls, strip centers, warehouses and large buildings, restaurants, hospitals, parking garages, industrial parks, gas stations, marinas, boats, ships, fleet trucks, heavy equipment, RV's, and aircraft. They are also available to pressure clean for home owner associations (H.O.A.'s), property management companies, government and municipal organizations. They also offer specialty power washing services for graffiti removal and roadway maintenance.
They offer pressure cleaning services in the following areas: Palm Beach Lakes, Royal Palm Estates, Atlantis, Juno Beach, Lake Worth, Loxahatchee, North Palm Beach, Palm Beach, Palm Beach Gardens, Riviera Beach, Royal Palm Beach, Wellington, Delray Beach, Boca Raton, Boynton Beach, and all areas in between.
To schedule a no obligation West Palm Beach pressure cleaning estimate call (561) 693-3633 or visit their website at http://pressurecleaningwestpalmbeach.net .