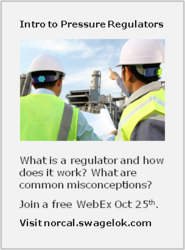 Webinar attendees can request a phone consultation to address specific questions.
(PRWEB) October 08, 2012
Swagelok Northern California, a Swagelok® sales and service center serving businesses in northern California and northwestern Nevada, will present a free webinar on Oct. 25 on the basics of pressure reducing regulators. The live presentation will be conducted at 10 a.m. PDT via WebEx by Swagelok field engineer Eric Kayla. Companies registering for the webinar will also have an opportunity to book a phone session the following day with Kayla to discuss regulators and ask specific questions.
Kayla has been with Swagelok for 17 years, the first 10 at Swagelok's Ohio headquarters, and the last seven out in the field, working with customers in the western portions of the United States, Canada and Mexico.
He hopes the October webinar on the basics of regulators will eventually expand into a series.
"We want this first one to be something that will introduce people to regulators without having to sit through a sales presentation," he says. Among other things, Kayla will discuss application variables such as pressure and flow and how these affect a regulator's performance. While a regulator is designed to control pressure, there is still a maximum of flow that can go through it.
The presentation of about 40 minutes will be followed by a time for questions from participants. Companies wishing to participate can fill in the short form on Swagelok Northern California's web site at norcal.swagelok.com/swagelok-regulators-webinar
A recording of the webinar is to be made available afterward. Swagelok Northern California will email its subscribers as soon as the recording is posted.
The private sessions on Oct. 26 are a rare opportunity to get Kayla's expertise on short notice. His November calendar has already been fully booked for months. Only a few time slots are available for the Oct. 26 calls, and they are expected to fill quickly.
About Swagelok Northern California
Swagelok Northern California is a Swagelok® sales and service center serving businesses in northern California and northwestern Nevada. If fluid systems are vital to your business or to process operation, product quality, operating safety, or environmental compliance, our 50+ associates can help. We have two facilities in the San Francisco Bay Area: 3393 West Warren Ave ., Fremont, CA 94538; and 540 East Weddell Dr., Suite 4 & 5, Sunnyvale, CA 94089. Call 510-933-6200.
BROWSE DOWNLOADS
Browse catalogs detailing the Swagelok® hoses, regulators, pre-engineered subsystems, and other Swagelok parts and solutions available through Swagelok Northern California.
BROWSE ARTICLES
Browse tips on reducing the cost and increasing the efficiency of your fluid systems. Sign up to receive a new tip each week.
REQUEST INFORMATION
Ask any question about fluid systems, parts, or services here. A member of our friendly local team will help you - usually in a few minutes.