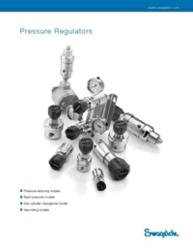 We're opening a whole new product line to our clients." - Jim Begg, Edmonton Valve & Fitting
Edmonton, Alberta (PRWEB) April 16, 2012
Edmonton Valve & Fitting Inc., an authorized sales and service center for Swagelok fluid system components, will showcase Swagelok's new line of Pressure Regulators at the International Society of Automation (ISA) show in Edmonton on April 18 and 19.
Customers who know Swagelok primarily for its tube fittings and valves are discovering that they can also look to Swagelok for all regulator applications. At the ISA show, Edmonton Valve & Fitting will have its Swagelok Pressure Regulators on display.
"We're opening a whole new product line to our clients," said Jim Begg, who will lead the sales team at the booth. "These originated from a company that Swagelok acquired from Holland. Since the acquisition we've extended the offering of regulators into much larger sizes."
Regulators are much more complex than valves. Choosing the correct regulator can be a complex process that takes into account the range of inlet and outlet pressures, temperatures and flow conditions. Edmonton Valve & Fitting has in-house experts to help customers select the right regulator for each job. They also know how to troubleshoot when questions arise on the job site. Swagelock field engineers will also be at the ISA booth.
Also on display are examples of Swagelok's pre-engineered subsystems (PrESS), such as sample probe modules and fluid distribution headers. Orders have poured in from customers who have learned such subsystems are now available, but "a lot of people aren't yet aware of the fact that we have these," Begg said. Swagelok's presence at ISA Edmonton will help change that. Visitors to the booth will be able to view information on computer displays, and take home printed material on the new regulators.
On a lighter note, Swagelok will also have a drawing for tickets to a June 21 Edmonton Eskimos football game.
"It's going to be our opening game against the BC Lions at Commonwealth Stadium in our luxury suite," Begg said. "We've got four tickets to give away for that, including beverages and food."
The Edmonton Valve & Fitting booth is easy to find in space 1044, immediately to the right of the door upon entering the exhibit hall at the Edmonton Expo Center.
About Edmonton Valve & Fitting
Since 1965, Edmonton Valve & Fitting Inc. has been a locally owned and operated business, and an authorized sales and service center for Swagelok products to Northern and Central Alberta industry with unique products and reliable service. From its inception, the company has grown to a quality service organization of over 40 people with branch offices in Drayton Valley and Fort McMurray. For sales contact Jim Begg at 780-437-0640.
About International Society of Automation (ISA)
Founded in 1945, the ISA is a leading, global, nonprofit organization that is setting the standard for automation by helping over 30,000 worldwide members and other professionals solve difficult technical problems, while enhancing their leadership and personal career capabilities. For more information on the conference, go to http://www.ISAedmontonshow.ca.